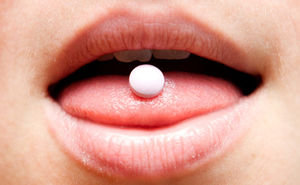 If you are taking a brand-new prescription med, you are part of the great ongoing clinical trial - whether you know it or not.
And so a team of Harvard University medical professors advises physicians NOT to prescribe the new medications to their patients "unless they represent an important medical advance" in the prestigious
Journal of the American Medical Association (JAMA)
. The editorial shows the safety of new drugs is not established -
despite FDA approval.
Aren't drugs thoroughly tested before going on the market?
"Actually, the American public is the primary guinea-pig for new medications. The FDA views the first years after some drugs hit the market as Phase 4 of a clinical trial, because that's when it's really put to the test," states Jay S. Cohen, M.D., associate professor of family and preventative medicine at the University of California at San Diego.
Before FDA approval of a new drug, only a few hundred or thousand of carefully screened patients have used it, and then only for a few weeks or months. It's only after FDA approval that drug-makers sell their new drugs to a diverse cross-section of the population for long-term use.
The
JAMA
doctors uncovered data that shows a staggering
19.8 million patients--almost 10% of the American public--were exposed to new drugs before they were removed from the market.

New Isn't Always Better
"A major study found that
51 percent of all new drugs have serious side effects that were not recognized prior to approval,"
states Dr. Cohen. Like the
JAMA
doctors cited above, Dr. Cohen "recommend[s] that doctors and patients avoid medications that have only been on the market a few years, unless there's a specific reason to use them rather than older formulas whose risk are better known."
There may be a growing number of medical professionals concerned about the safety of new drugs. A symposium sponsored by the U.S. Army Medical Dept. and the Henry M. Jackson Foundation for the Advancement of Military Medicine concurred with the same
JAMA
report:
Adverse drug reactions, they acknowledge, is a leading cause of death in the U.S. They analyzed the 25-year record of drug label changes (between 1975 to 1999) as they appeared in the Physician's Desk Reference and found that 548 new drugs were approved during that period. Of these 20% required subsequent black box warnings about life threatening drug reactions, half of these adverse effects were detected within 2 years, others took much longer. Sixteen [new] drugs had to be withdrawn from the market because they were lethal.

...

The JAMA report corroborated the findings of the LA Times earlier report: in some cases FDA approved new drugs despite pre-marketing evidence indicating potential danger. In his editorial in JAMA, FDA's Dr. Robert Temple attempts to disavow agency responsibility, while acknowledging: "Pre-marketing trials in a few thousand (usually relatively uncomplicated) [parenthetical statement is original] patients do not detect all of a drug's adverse effects...and sometimes the post-marketing discoveries cause the drug to be withdrawn."
The military symposium was also referring to the Pulitzer-Prize-winning investigative report published in the
Los Angeles Times
(David Willman, December 2000) which shows the
FDA was the last to withdraw several drugs already banned
by European health agencies. In eight years, from January 1993 through December 2000, seven deadly drugs were brought to market only to be withdrawn
after the new drugs had been linked to at least 1,002 deaths.
Sources
Wood A.J.J. "The safety of new medicines. The importance of asking the right questions" JAMA editorial, 281 (1999):1753-1754: healthandpharma.awardspace.com/~.
Cohen, J.S. Over Dose: The Case Against the Drug Companies: Prescription Drugs, Side Effects, and Your Health. New York: Penguin Putnam Inc., 2001.
Strand, R.D. Death by Prescription: The Shocking Truth Behind an Overmedicated Nation. Nashville: Thomas Nelson Publishers, 2003.
Lazarou J., et al. "Incidence of adverse drug reactions in hospitalized patients: a meta-analysis of prospective studies." JAMA 279 (1998):1200-1205: www.ncbi.nlm.nih.gov/pubmed/9555760.
Sharav, V.H. "Conflicts of Interest," 14th Tri-Service Clinical Investigation Symposium sponsored by U.S. Army Medical Department and The Henry M. Jackson Foundation for The Advancement of Military Medicine (May 6-8, 2002): http://psychrights.org/Drugs/AllenJonesTMAPJanuary20.pdf
Temple, R.T., et al. "Safety of newly approved drugs; Implications for prescribing," JAMA editorial, 287 (2002):2273.
Willman, D. "How a New Policy Led to Seven Deadly Drugs," Los Angeles Times, Dec. 20, 2000 (Front page).