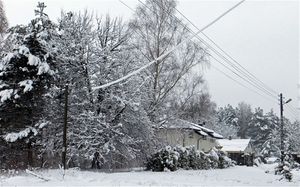 Heavy snow falls dumped as much as 10 inches across the country on Sunday, and more is forecast for Monday as an unusually prolonged winter maintains a severe grip over the Central European country.
In an Easter address to Poland Bronislaw Komorowski, the Polish president, described the weather as a bad "April Fool's Day joke".
Engineers from electricity companies struggled to restore power to towns and homes after the weight of snow brought power lines down and caused tree branches to snap and bring more lines down. The worst affected regions were to the east and south of Warsaw where as many as 80,000 people were left without power.
Dorota Gajewska, a spokeswoman for the PGE Dystrybucja, the local power company, described the situation as "serious" and said that many homes will remain without electricity at least until Monday night.
The weather also took its toll on Poland's airports with hundreds of flights either cancelled or delayed.
Poland's roads authority reported that driving conditions across the country remained difficult despite the deployment of over 1,100 snow ploughs. Sixteen people were killed in traffic accidents over the Easter weekend and 232 left injured.
Local authorities in Poland warned that the continuing battle with winter weather was putting an intolerable strain on budgets, with the mayor of the southern town of Bytom proposing that they might have to follow the "Scandinavian example" and leave some roads covered in snow.
The blizzard conditions stretched into the neighbouring Czech and Slovak republics where snow falls up to 15 inches deep in mountain regions blocked roads and cast an icy blanket over attempts to celebrate Easter.
Further south in Hungary melting snow coupled with rain made rivers in the west of the country burst their banks. The Hungarian armed forces helped evacuate 20,000 people as over 296,000 acres of land near Lake Balaton disappeared under flood waters.
Local farmers reported that the combination of snow, frost and floods will result in "huge losses".