It describes itself as the warmest corner of the British Isles ... not that you'd know it from this picture. The worst snow storms in 26 years have caused havoc on the Channel Islands this week, leaving drifts up to 8ft deep. The airport on Guernsey had to be shut for two days while more than 15,000 tons of snow were removed from the runway.
The islands caught the same storms that crippled northern France, where shoulder-deep drifts led to Channel Tunnel trains being cancelled and long queues on the M20 as lorries waited for delayed ferries. Although most of the Guernsey and Jersey snow is now melting, weather men predict another cold snap next week.
This picture was taken by Danielle Stonebridge, 21, a Guernsey resident and part- time photographer, of her father Dave, 61.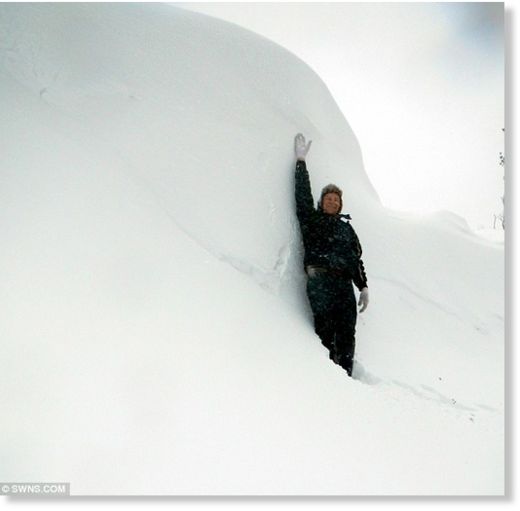 Additional images
She said: 'I have never seen snow like this before, my dad can remember something like this when he was around ten years old, but there is just so much of it. It brings the child out in me and I have been out in the snow playing, it has been great.
Although it is hard to get around, a five minute journey took me three hours, the roads are absolute carnage.'
The blizzard conditions were the worst seen on the islands for almost three decades, the senior forecaster at Guernsey Met Office said.
Martin Crozier added: 'You have to go back to January 1987 to have the sort of depth of snow and drifting.
'This one has thrown up some enormous drifts which I don't think we had in 1987 so people will compare it to the 1970s and even 1963.'
On mainland Britain, things look a little more promising with temperatures set to rise slightly over the weekend.
But the respite may be over quickly as heavy rain and overnight frosts are forecast by Tuesday accompanied by a return of the biting easterly winds that brought temperatures recently down to as low as minus 8C.
Chris Burton, forecaster for Meteogroup, warned that though not as bitter as the past week, temperatures are 'definitely not warming up anytime soon'.
He said: 'It will be a touch milder over the next couple of days but still cold for the time of year.
'It will remain unsettled with quite heavy rain on Friday and this will still be cold enough to form sleet and snow on higher grounds.
'There are hints that there could be another cold spell developing next week, certainly enough to make overnight frosts quite likely.
'It's definitely not warming up any time soon.'