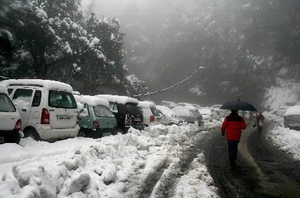 The "Queen of Hills" was witness to the record breaking single day highest snowfall in the month of January in the last eight years.
The heavy snowfall continued on second consecutive day on Friday till late night and recorded a total of 63.6 cms of snow in two days in Shimla.
In the last 24 hours, there was 38.6 cms of snow recorded making it a record breaking single day snow after 2004 in the month of January.
The January of 2004 had recorded a 38.6 cm snow in a single day.
The heavy snowfall brought life to a standstill traffic and power supply was disrupted across Shimla town.
Most part of Shimla plunged into darkness at 11.00pm because to falling trees and electricity poles that snapped power.
The communication services were also affected with snapping of telephone lines.
Daily supplies and newspaper services were affected and the residents had to make do without milk and bread supply that was affected owing to transport disruption.
Deputy commissioner of Shimla, Dinesh Malhotra, said that efforts were on to bring life to normal.
Electricity supply was being restored across the town and by 6.00pm it would be completely restored.
"Snow excavators to clear snow on the roads were being used since morning to normalize vehicular traffic. Roads leading to hospitals like Indira Gandhi Medical College (IGMC) were also being cleared on priority. Besides, supply of essential commodities is also being restored," he said.
Meanwhile reports of heavy snowfall were also reported from high hills in Shimla district and other parts of the state.
In Shimla district Chopal , Rohru, Jubbal- Kotkhai remained cut off for the third consecutive day from the capital town owing to road blockade.
Meanwhile traffic on the roads in the tribal belt of Kinnaur and Lahaul Spiti continued to be disrupted.
With the road blocked at Khara-Pathar due to heavy snow no HRTC buses were plied for Rohru and Chopal for the third consecutive day.
Himachal Road Transport Corporation (HRTC) had no buses plying to the upper region of Shimla district and Kinnaur.
According to Metrological Department during the last 24 hours heavy snowfall and rains occurred in isolated places in the state. Meanwhile the maximum temperatures dipped by 2 to 3 degree and the minimum temperatures also decreased by 1 to 2 degree Celsius in the last 24 hours.
Metrological Department, Shimla director Manmohan Singh said that as the Friday's Western Disturbance as an upper air system over Jammu and Kashmir and neighbourhood has moved away bringing in better weather conditions. Local factor are likely to cause partly cloudy sky with possibility of thundery development.
A fresh feeble WD as an upper air system likely to affect the western Himalayan region from January 23 onwards, he added.
Reeling under freezing point the lowest temperature was recorded at Kalpa in Kinnaur district -7.8 degree Celsius , followed by Keylong -6.7, Manali -1.6 and Shimla -1.5 degree celsius.
The maximum temperatures recorded from various parts in state include Shimla 8.8 degree Celsius, Sundernagar 15.9, Bhunter 13.2, Kalpa 0.1, Dharamsala 14.6, Nahan 13.6, Solan 12.2 degree Celsius.
In the last 24 hours Kalpa received 49 cms snow, Shimla 38.6 cms , Manali 36 cms, Keylong 11 cms and Seobagh 3 cms.
In the last two days Kalpa received 114 cms, Shimla 63.6 cms, Manali 87 cms and Keylong 37 cms.
Deputy commissioner of Kinnaur, JM Pathania said, "Electricity supply has been affected since the last three days and roads in most of the parts continued to be blocked for the second consecutive day. With about 5 feet snows restoration of vehicular traffic completely is likely to take some time. However there is no shortage of essential commodities."
Meanwhile vehicular traffic also continued to be disrupted in Lahaul and Spiti valley.
"Although roads are blocked due to heavy snow connectivity to the helipads have been cleared so that emergency air lifting can be started when required," said SS Guleria, DC Lahaul and Spiti.