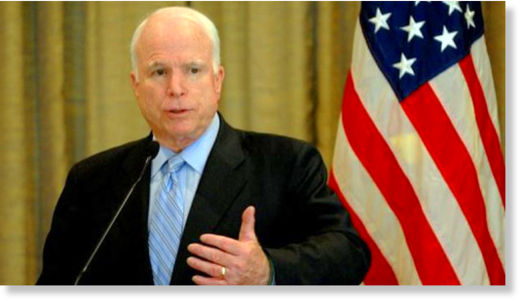 Senator John McCain, the US Navy veteran who was tortured during his years in a Vietnam prison, joked Tuesday about the prospect of a colleague being held hostage in Afghanistan and another being waterboarded.
McCain made the remarks just days after a hostage drama in Algeria left dozens of hostages dead, including three Americans.
He was speaking at a bipartisan press conference with four other senators as they discussed their recent congressional mission to Afghanistan, Egypt, Israel and Jordan.
The lawmakers also met in Cairo with members of the Syrian opposition, which is battling to oust strongman Bashar al-Assad in a civil war that has left more than 60,000 dead, according to the United Nations.
Senator "Lindsey Graham was with us. He remains in Afghanistan doing his active duty as a colonel in the Air Force reserve," McCain began.
Then he turned on the dark humor.
"We hope that he is not held hostage for - well, some of us hope that he is," said McCain, the Republican nominee who lost the 2008 presidential election to Barack Obama.
In closing the press event, McCain said he had spoken with Senator John Kerry, whom Obama has tapped to be his next secretary of state, about the congressional delegation.
But he then added that he looked forward to "mercilessly" interrogating his friend Kerry, a fellow Vietnam War veteran, at his upcoming Senate confirmation hearing.
"We will bring back for the only time waterboarding to get the truth out of him," McCain quipped.
The simulated drowning technique known as waterboarding was conducted on terror suspects during president George W. Bush's administration, and McCain has strongly condemned its use as torture.
Perhaps more than any of the Senate's 100 members, McCain has earned the right to make light of such gross mistreatments, having experienced torture at the hands of his Vietnamese captors after he was shot down while on a bombing mission over Hanoi in 1967.
The comments were at best untimely, given they came just two days after Algeria's military launched a final raid on a remote gas complex in a bid to rescue hundreds of people taken hostage by militants.
The hostage drama ended with 37 foreigners dead.
McCain was joined at the press event by fellow Republicans and Democrats, who said they were in "unanimous" support of Washington providing greater humanitarian and military aid directly to the Syrian Opposition Council.
Source: Agency France-Presse