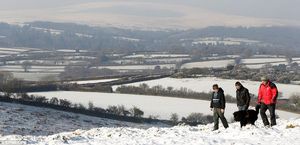 Parts of Britain could see temperatures drop as low as -15C next week, as a cold front which will last until February sweeps the country.
Weeks of mild weather, which has led to spring flowers blooming early in many parts of the country, will be replaced with freezing temperatures and icy winds that could even bring snow.
Clear skies and sunshine will precede a widespread frost later this week, with temperatures plunging further over the weekend as warm southerly winds give way to icy blasts from the north east.
A Met Office forecaster told the
Daily Mail
: "It does look like it's going to get colder. There's the scenario where we will get winds coming in from the North East that will cause colder weather. Usually that means we'll see snow flurries as well."
Forecasters say the temperature could plunge to -15C in parts of the north by next week.
2013 got off to a mild start with above average temperatures often hitting the double figures. At night temperatures have been holding up at 6-8C - far warmer than the 0C typical at this time of year.
The mild spell saw unseasonably high temperatures over the holiday period, with 14.3C in Wester Ross, Scotland, last Wednesday and 12.8C in Usk, Monmouthshire on Thursday.
Tom Tobler, a forecaster with MeteoGroup, said: 'It will be freezing in some areas this week but could get slightly colder if the skies are clearer than forecast.
'This would be a return to more typical January temperatures than the milder weather we've been having. There is the potential next week for some colder weather.'