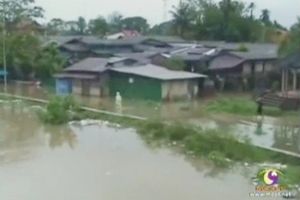 Heavy rain triggered flooding in several southern provinces and disaster zones have been declared to facilitate processes to assist flood victims.
The flooding in Narathiwat keeps rising due to heavy rain in the past few days.
About 200 villages in 13 districts have been declared flood disaster zones and about 27,000 people have affected and 345 people evacuated to safer areas.
Apinun Suethanuwong, Narathiwat governor, presided at the handing out of 400 sets of relief supplies sponsored by His Majesty the King to local residents in Takbai municipality. Flood victims are grateful that the King is concerned about them.
In the southern province of Phatthalung, soldiers distributed drinking water to 170 households in flooded areas in the Khuan Khanun district.
The province declared seven districts disaster zones. Flood triggered by heavy rain and high tide have affected about 300 households. The announcement will facilitate budget disbursement to help victims of repeated flooding.
Provincial authorities warned residents of low-lying areas near waterways and the lower slopes of Bantad Mountain to brace for possible recurrences of flash floods and landslides.
Local officials have been instructed to be on standby to assist the public in case of emergency.