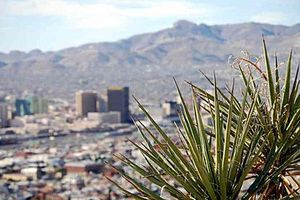 An upper-air disturbance slated to move into the southwestern United States has the potential of bringing wintry weather to portions of extreme southern New Mexico and the Big Bend Country of Texas beginning on Thursday.
While the best chance for snow will be across the Trans-Pecos, a general coating to perhaps an inch of snow will likely fall before it is all said and done.
The upper-air disturbance will begin to enter the Southwest on Wednesday night and slowly ride along the United States and Mexico boarder. This disturbance will likely stick around through Friday before lifting northeastward into the southern Plains.
As the system tracks into the Southwest, it will draw Pacific moisture from the south and Gulf of Mexico moisture from the east.
Meanwhile, the air mass in place across southwestern Texas and southern New Mexico will already be cold enough that any precipitation will likely start off as a wintry mix or snow all together, depending on the location.
Snow showers are expected to begin on Thursday morning in areas from El Paso south and eastward along the Rio Grande to the Big Bend region. On Thursday afternoon into Thursday night, the snow will begin to spread north and eastward into the Pecos River Valley. The snow will last on and off into Friday morning.
Snow levels across the region will likely be down to the desert floor. The best chance for snow will come on Thursday night.
Travel in this part of the country could become hazardous due to reduced visibilities in falling snow and areas of blowing snow. Some of the road surfaces may become snowcovered and icy in spots.
A total of 1 to 3 inches of snow will be possible for the Davis Mountains and the high terrain of the Big Bend Region. Locations on the desert floor could pick up between a coating to an inch.
Farther to the west, a total of 2 to 4 inches of snow could fall over the Franklin Mountains as well as the Guadalupe Mountain range in southeastern New Mexico and West Texas. Once again, locations on the desert will likely receive a coating to an inch which some locally higher amounts possible.