Montreal blanketed by more than 45 cm of snow from storm moving east
.
The winter storm that dumped a record-breaking amount of snow on Montreal is now hitting Newfoundland, with Environment Canada saying northern and central parts of the province can expect 20 to 30 centimetres.
"Heavy snow and strong easterly winds over southwestern Newfoundland this morning will spread northeastward today," Environment Canada said.
By 2:30 p.m. local time, there were snowfall accumulations of 13 centimetres in Deer Lake, seven centimetres in Gander and less than a centimetre in St. John's, according to Environment Canada meteorologist Rodney Barney.
Winter storm warnings are in effect in many parts of central and northern Newfoundland, with Environment Canada warning that "dangerous winter weather conditions" are expected in some areas.
The low-pressure system producing the storm is expected to move from southern Nova Scotia to near Cape Breton by Friday evening. The system will then track across eastern Newfoundland at night before moving to the northeast of the province on Saturday.
Strong easterly winds will accompany the system, with gusts reaching 100 km/h along Newfoundland's south and west coasts, and gusts to 150 km/h in the Wreckhouse area.
Wind speeds in Wreckhouse had reached a peak of 143 km/h by 2:30 p.m. local time, Barney said in a post on Twitter.
Eastern Newfoundland can expect snow turning to mixed precipitation, and then rain.
Environment Canada has also issued a
winter storm watch
for Nova Scotia saying "significant snowfall" is possible in the province Saturday night and into the next day.
P.E.I. is also under a winter storm watch, though significant snowfall for the Island is not expected until Sunday, the Environment Canada weather statement says.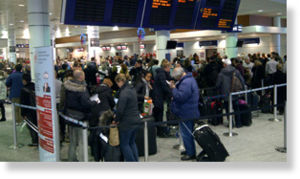 Montreal digs out
At least 45 centimetres of snow fell on Montreal on Thursday, breaking a record that had stood since 1969.
Roughly 3,000 city workers have the task of clearing the massive amount of snow, but Montrealers will have to be patient as the white stuff is removed.
City engineer Michel Frenette said Friday morning it would likely take seven days before the cleanup from the record-setting snowstorm is complete.
Both city workers and private contractors are working to clear the snow in the coming days, with a planned break likely to take place on Jan.1, he said. Bus lanes and multi-lane roads are the priority, Frenette added.
At Montreal's Trudeau airport, where more than 200 flights were cancelled at the height of the storm, travellers scrambled to find other arrangements. On Friday morning, there were significant lines at check-in counters, while at least 30 more flights were cancelled and scores more delayed.
Some weather warnings are still in place in Quebec, including storm surge warnings for the Rimouski area, and blowing snow warnings for the Gaspé, Anticosti Island and portions of the Lower North Shore on the Gulf of St. Lawrence.
Also Friday morning, roughly 1,300 Hydro-Québec customers were still without electricity in the Laurentians and Outaouais regions of Quebec. Most of these customers have been without power since Thursday, when high winds knocked down branches and trees, taking down power lines. Hydro-Québec expects to restore power to all 1,300 customers by the end of Friday.
The weather also affected mail delivery. Canada Post said on Friday in a post on Twitter that mail delays are expected, and weekend deliveries are being planned.
In New Brunswick, winter storm warnings, along with some freezing rain warnings that had been in place for southern portions of the province, were all lifted shortly after 10:30 a.m. AT.
Through Friday morning, Gagetown, N.B., received 38 centimetres of snow, while Bathurst got 20 centimetres.
In Ontario, the same system dumped 40 to 50 centimetres on the Cornwall area, 30 centimetres in Kingston, and 19 centimetres in Ottawa, which saw its second big snowfall in a week.