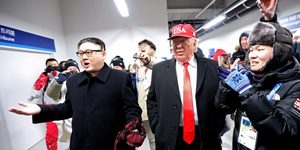 Did The Donald and Rocket Man secretly meet at the Winter Olympics in PyeongChang?
When a man knows he is to be hanged in a fortnight, it concentrates his mind wonderfully.
- Samuel Johnson
Recent Comments
How ironic. He should've at least used a cricket bat.
---
Racism in the name of ending racism, Fascists claiming to fight fascism. If this is as intelligent as the future generations get, we are all...
---
And the Caucasian race did indeed originate in the mountains of Eastern Europe, NOT Africa.
---
The light skin---as well as blue eyes--- is the product of mutated genes that occurred during one or more of the cosmic cataclysms' radiation...
---
I'm trying to implement this... It's quite hard and I don't know yet where it's taking me: - Signed up for a long run and training towards it when...