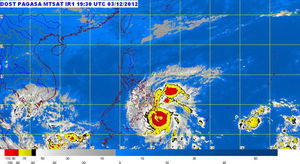 'Most southerly typhoon ever recorded in the Western Pacific' expected to bring 'life-threatening impacts'
Historic and potentially catastrophic
Super Typhoon Bopha
has made a direct
hit on the southern Philippines
on Tuesday morning, raising fears the impacts of the storm may be far worse than a much weaker 2011 storm that killed over 1200 people.
The powerful storm made landfall at 3:45 PM EST on Monday, 4:45 AM Tuesday local time.
The Category 5 Super Typhoon has sustained winds of over 161 mph - gusting to 195 mph - and is the most southerly typhoon ever recorded in the Western Pacific. AccuWeather reports it "is expected to bring life-threatening impacts."
Weather Underground co-founder Dr. Jeff Masters
writes
that the "extremely dangerous" storm "is following a similar track to last year's
Tropical Storm Washi
, which hit [the southern Philippine island of] Mindanao on December 16, 2011 with 60 mph winds and torrential rains. Washi triggered devastating flooding that killed 1268 people. Washi was merely a tropical storm, and Bopha is likely to hit at Category 4 or 5 strength, making it the strongest typhoon ever recorded in Mindanao."
"The potential destruction of this typhoon is no joke," Philippine President Benigno Aquino said in a national TV address on Monday.