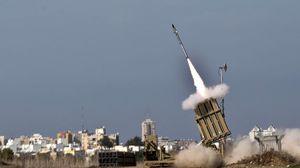 Israeli media say an Iron Dome missile fired to intercept Palestinian Grad rockets missed its target and landed near one of the busiest highways in the Israeli city of Ashdod on November 21.
The Iron Dome missile shield marked another failure as its missile went in a wrong direction toward a busy highway instead of heading upwards to the Palestinian rockets, and caused an explosion only 30 meters from the road, the media stated.
An Egypt-mediated ceasefire agreement on Wednesday ended eight days of Israeli attacks on the besieged Gaza Strip that killed more than 160 Palestinians and injured about 1,200 others.
However, Israeli Minister for Military Affairs Ehud Barak threatened on Thursday that the Tel Aviv regime was prepared to resume deadly attacks on Gaza if the ceasefire failed to hold.
The Iron Dome missile shield intercepted about 420 out of some 1,500 rockets fired by the Palestinian resistance fighters into the Israeli cities.
The resistance fighters incessantly fired rockets and missiles into the occupied lands during the eight-day Israeli war on Gaza, killing at least five Israelis, in retaliation for the fatal attacks on the besieged Palestinian territory.