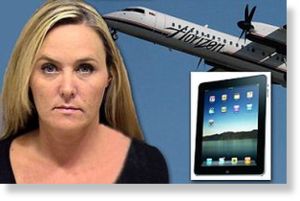 Oregon City, Oregon - Police say a Nevada man who lost his iPad on an airplane used an app called Find My iPad to locate it inside the Oregon home of a flight attendant.
Officers in Oregon City, outside Portland, arrested 43-year-old Wendy Ronelle Dye Friday evening.
The flight attendant for Horizon Air allegedly told officers that a passenger brought her the tablet saying it was found on a seat. She said she never used the iPad and planned to turn it over to airline officials, but police found some of her personal information on it including her husband's birthday.
Arrangements are being made to return the tablet to its owner in Reno. Dye did not immediately respond to a phone message.
A spokeswoman for Alaska Airlines, which owns Horizon, says Dye was suspended.