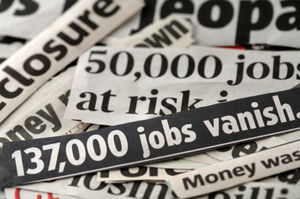 New claims for unemployment benefits took an unexpected jump in the latest week, raising more concerns about the struggling job market and providing further incentive for the Federal Reserve to jump in and help the economy.
The Labor Department reported Thursday that seasonally-adjusted initial claims rose 4,000 to 372,000. That's compared to a decline of 1,000 that economists on average had been expecting.
The data keeps pressure on President Barack Obama ahead of his November re-election bid. His Republican challenger is trying to focus voters' attention on a lofty unemployment rate that has dogged Obama's presidency.
"It's not a great number. The trend for jobless claims has been flat and has been erratic of late. But overall it does keep the odds for more quantitative easing from the Fed," said currency strategist Brian Kim of RBS Securities.
Many economists think the Federal Reserve could unveil a new bond buying program to prop up economic growth as soon as its next meeting Sept 12-13, although an improvement in hiring this month could make that less likely.
The report on jobless claims did have a silver lining, however.
The data covers the same week looked at by the government for its monthly measure of employment, and showed a slight drop in layoffs from the survey week last month, which is a mildly positive signal for hiring in August.
The four-week moving average for new claims, a measure of labor market trends, was 368,000 last week. That was a slight increase from the prior week, but still 2.1 percent lower than in the second week of July.
That week, the government surveyed employers and concluded 163,000 new jobs were created in July - an improvement from the prior three months though the unemployment rate still ticked higher to 8.3 percent.
The government will release its employment report for August on September 7, and policymakers at the Federal Reserve will scrutinize the data for signs the economy is improving.
Minutes from the Fed's July 31-August 1 policy review, released on Wednesday, showed the central bank is likely to deliver another round of monetary stimulus "fairly soon" unless the economy improves considerably.
Claims data, which swung wildly in July due to shifts in seasonal auto plant shutdowns, are now giving a clearer picture of the labor market's health.
A Labor Department official said there was nothing unusual in the state-level data. The prior week's figure for initial claims was revised higher to 368,000 from the previously reported 366,000.
The U.S. economy faces a number of threats, including the looming possibility the government will raise taxes and cut spending. That is already hurting business sentiment.
Europe's festering debt crisis also menaces the global economy. Business surveys released on Thursday painted a global picture of economic malaise from Beijing to Berlin.
The euro zone economy will shrink around 0.5 percent in the current quarter, with weakness even spreading through Germany, the region's largest and strongest economy, Markit's Purchasing Mangers' Index suggested.
Also worrisome for global growth, the HSBC Flash China manufacturing PMI fell to 47.8 for August, its lowest level since November and well down from July's final figure of 49.3.
In the United States, the number of
people still receiving benefits under regular state programs after an initial week of aid rose 4,000 to
3.317 million
in the week ended August 11, the claims report showed.
A total of 5.59 million Americans were receiving unemployment benefits under all programs in the week ended August 4, down 109,812 from the prior week.
Reuters contributed to this report.