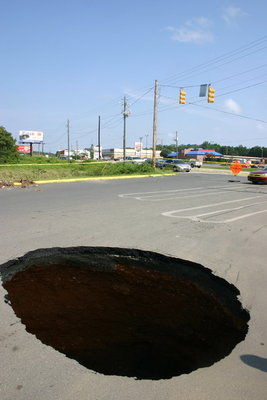 Wadesboro, North Carolina - A scary ordeal in Wadesboro occurred early Sunday morning.
Officials said flooding caused extensive damage throughout the area,
including a large sinkhole that two men driving out of a Mcdonald's parking lot fell in to.
Jeffrey Miles said he never saw it coming, an early morning coffee run suddenly turned in to a trip to the hospital.
"We were driving up to the light and

the ground just opened up on us

. We fell in the sinkhole,"
said Miles.
Officials said a gorge behind Highway 74 near the Mcdonalds, gave way during a heavy rain storm around 2:00 am Sunday, causing the sinkhole.
Miles and his friend both said they feel lucky to be alive.
"All of the sudden we just heard this loud noise behind us and after that we just blanked out. I don't know for how long but when we woke up the Mcdonalds workers were pulling us out of the car,"
said Jamar Richardson.
Richardson and Miles were taken to the hospital, but quickly released.
The Wadesboro Police Chief said the damage doesn't stop there. A brick wall in front of Smith's Funeral Home came tumbling down as well. Chief Janie Schutz said she even has a mess of her own to worry about.
"I have somewhat flooded flooring in my apartment and this morning, I've been sort of mopping it up with towels at this point," said Schutz.
Schutz said clearing the roadways and getting the Mcdonalds back in business, is top priority.
She said crews will be working diligently over the next couple of days to put the area back together.
Officials said the sinkhole flooded 2 homes, damaged several other cars and downed a number of trees. No major injuries were reported.