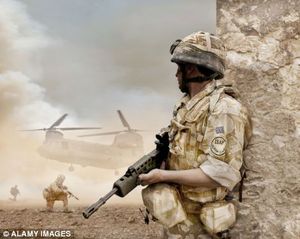 Study found direct link between combat and violence at home
A third of victims were someone in the family
Former soldier Aaron Wilkinson was jailed last month for killing his landlady
He was found to have Post Traumatic Stress Disorder after returning from active combat in Afghanistan
One in eight soldiers has attacked someone after coming home from fighting.
The Kings Centre for Military Health Research spoke to 13,000 veterans from the Afghanistan and Iraq wars and said they discovered a link between combat and trauma, and violence at home, often directed at their partners.
A third of the victims were someone in the family - often a wife or girlfriend, the study found.
Study author Dr Deirdre MacManus told the BBC: 'The association between performing a combat role and being exposed to combat, and subsequent violence on return from deployment, is about two-fold.
'We also saw that soldiers who had seen more than one traumatic event were more likely to report being violent.'
Earlier this month ex-soldier Aaron Wilkinson, 24, was jailed for shooting his landlady dead, just months after he had returned from serving in Afghanistan with the Territorial Army.
Wilkinson, who was diagnosed with post-traumatic stress reaction by an Army doctor, killed Judith Garnett, 52, at her farm in Leeds.
His condition developed into post-traumatic stress disorder (PTSD), but was not monitored or treated.
He admitted manslaughter on the grounds of diminished responsibility and was cleared of murder.
Former Royal Engineer Lewis Mackay thinks screening for PTSD after a tour would solve the problem of troops being unable to admit they were not coping with stress.
He saw a search team commander lose both legs when he stepped on a home-made bomb in Afghanistan.
Mr Mackay said that when he went home to his wife Emma, he came close to hitting her.
'I had a very short temper," he told the BBC.
'I was punching doors and walls. I was very, very aggressive.
'If Emma was doing something that I didn't think was right, I wanted to lash out. I had to try my hardest not to - by sitting on my hands or biting my fist.'
A Ministry of Defence (MoD) spokesman said: 'There is no evidence that suggests domestic violence is a greater problem within the service community than in the civilian community.
'MoD policy makes it clear the Armed Forces will not tolerate domestic violence.
'Service personnel who experience violence and service family members who are victims of violence have a wide range of sources of help and information.
'This includes single-service welfare providers, unit welfare officers, families' federations and help-lines.
'The Government is absolutely committed to improving the mental health of our Armed Forces and veterans.
'We are determined to make the mental health services our Armed Forces receive the best in the world.
'We are examining a number of ways to develop mental health support for the Armed Forces including the use of screening and surveillance techniques.
'We will ensure that, whatever new measures are introduced, they are appropriate and beneficial for the individual and the Armed Forces as a whole.'