Steven Van Zandt, a guitarist in Bruce Springsteen's E-Street Band, has accused England of becoming "police state" after "The Boss" and Sir Paul McCartney were silenced for breaching a council curfew at Hard Rock Calling.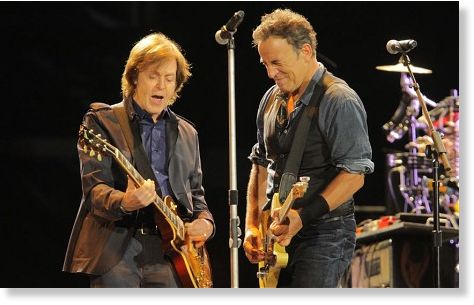 Van Zandt, 61, who has also stared in cult US drama series
The Sopranos
, aired his frustration at the gig's premature ending at the concert in Hyde Park, central London on Saturday night.
Organisers said it was "unfortunate" that the performance was stopped at the end but insisted the curfew was put in place for to help protect "public health and safety".
The decision, however, sparked outrage amongst fans while Van Zandt took to Twitter to accuse England of becoming a "police state".
Sir Paul had joined Springsteen, 62, and his E Street band on stage at the Hard Rock Calling music festival following a performance by the American rock star that had lasted more than three hours.
The US singer greeted the former Beatle, 70, by saying "I've been waiting for this for 50 years".
Springsteen, known for his long performances, had exceeded the curfew by half an hour.
After belting out hits such as Born In The USA and Because The Night, he welcomed Sir Paul to the stage to sing Beatles hits I Saw Her Standing There and Twist and Shout.
But after singing two Beatles hits both performers were forced to leave the stage in silence after their sound equipment was turned off - meaning they were unable to thank the audience.
The band had stood for some minutes, bemused and bowing, before speaking their thanks into switched-off microphones to growing jeers.
In a series of angry tweets from
@StevieVanZandt
, Springsteen's guitarist said: "One of the great gigs ever in my opinion. But seriously, when did England become a police state?
"We break curfews in every country but only English cops needs to 'punish us' by not letting us leave until the entire crowd goes.
"Is there just too much fun in the world? We would have been off by 11 if we'd done one more. On a Saturday night! Who were we disturbing?"
He added: "The cops got nothing more important to do? How about they go catch some criminals instead of f****** with 80,000 people having a good time?
"English cops may be the only individuals left on earth that wouldn't want to hear one more from Bruce Springsteen and Paul McCartney!
"I'm sorry but I have to be honest I'm p*****. Like I said, it didn't ruin the great night. But when I'm jamming with McCartney don't bug me!"
He continued: "If it's a public transport issue I'm sorry but people are adult enough to go get a train if they need to without the cops pulling the plug!"
"Ha! @raindogs70 just reminded me how the Beatles' rooftop concert ended. Not much has changed in 43 years!"
He was referring to the afternoon of January 30, 1969 when
The Beatles surprised a central London office lunch
crowd with an impromptu concert on the roof of their Savile Row Apple headquarters.
But the outing was abruptly cut short by police who objected to the noise.
Several hours later on Sunday he posted further messages on Twitter in support of the event: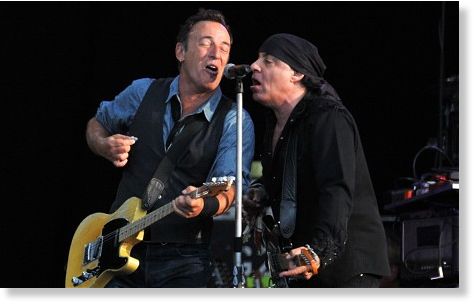 "Very proud of our association with Hard Rock Calling and Hard Rock in general and what they're doing for Rock music.
"Hard Rock would have let us play all night."
"There's no grudges to be held. Just feel bad for our great fans. Hard Rock is cool. Live Nation is cool. It's some City Council stupid rule."
Springsteen had earlier invited Rage Against The Machine's Tom Morello on stage to perform two songs, and singer John Fogerty had joined him for one.
Boris Johnson also waded into the row, saying the musicians should have been allowed to continue their set.
"It sounds to me like an excessively efficacious decision," he told LBC Radio in London.
"You won't get that during the Olympics.
"If they'd have called me, my answer would have been for them to jam in the name of the Lord."
Audience members and fans reacted angrily to the concert's abrupt end.
Stephen Merchant, the comedian, wrote on the micro-blogging website: "Ashamed to be British right now. Springsteen and McCartney playing Twist & Shout in Hyde Park and council pulled the plug cos of curfew."
Simon Pegg, the comedian and actor, added: "Can't believe they pulled the plug on Springsteen and Macca last night in Hyde Park. What joyless, bitter killjoy made that decision? ‪#shame."
While Springsteen did not write about the curfew row himself on his official Twitter page, he "retweeted" several posts about it including from Van Zandt. In one tweet he described the concert as "epic".
"Sir @PaulMcCartney joined Bruce and the E Street Band on stage last night at London's @hardrockcalling. ‪#EPIC", before posting a picture of themselves on stage.
Last week fans took to Hard Rock Calling's official Facebook page to urge the singer, known as 'The Boss', to defy the restrictions.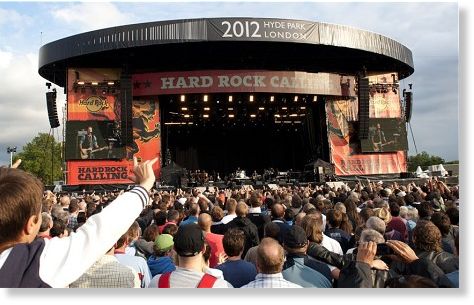 One, Thomas Messenger, said: "Only 3:15 for Bruce? Looks like it's curfew-breaking Boss time"
A spokesman for Live Nation, which organisers the event, said: "Last night everyone had a fantastic time, in the excellent weather conditions, with Bruce Springsteen and the E Street Band giving 65,000 people an incredible performance of 29 songs with special guests John Fogerty, Tom Morello & Paul McCartney joining him onstage.
"It was unfortunate that the three hour plus performance by Bruce Springsteen was stopped right at the very end but the curfew is laid down by the authorities in the interest of the public health and safety.
"Road closures around Hyde Park are put in place at specific times to make sure everyone can exit the area safely."
Leith Penny, Westminster Council's strategic director for city management, also defended the decision.
He said: "Concert organisers, not the council, ended last night's concert in Hyde Park to comply with their licence, which allows them to run the concert until 10.30pm.
"Licences are granted until certain times to protect residents in the area from noise late at night."
On Sunday singer Paul Simon closes out the three-day event.
The number of concerts which can take place in Hyde Park will be reduced from 13 to nine from next year following complaints about noise.
The crowd limit will also fall from 80,000 to 65,000, and in some cases 50,000 from 2013 after the decision by Westminster Council's licensing sub-committee last February.
The number of concerts to be held came into question after residents in well-to-do Knightsbridge and Belgravia complained about noise.
There were 109 complaints from residents in 2011, around twice as many as in 2010.
Boris Johnson waded into the row this morning, saying the musicians should have been allowed to continue their set.
Speaking to Kay Burley on LBC radio, he said: "It sounds to me like an excessively efficacious decision.
"You won't get that during the Olympics.
"If they'd have called me, my answer would have been for them to jam in the name of the Lord!"
Spokesmen for Springsteen and Sir Paul were unavailable for comment.