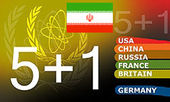 Iran and the six world powers ended two days of talks by technical experts who discussed the details of the two sides' proposals to end the nuclear standoff between Tehran and the sextet.
A statement issued by the European Union at the end of the talks in Istanbul said the discussions lasted a full day and ended early Wednesday.
The meeting was part of the agreement reached by Iran's top negotiator Saeed Jalili and EU foreign policy chief Catherine Ashton at the end of their latest round of talks in Moscow.
After a 15-month hiatus, Iran and the Group 5+1 held several rounds of talks this year, with the latest one in Moscow on June 18-19. At the end of the Moscow talks, Jalili and Ashton announced that they would hold a meeting after talks between their deputies.
Ali Baqeri, who is Jalili's deputy in both negotiations with the world powers and in Iran's Supreme National Security Council (SNSC), and deputy head of EU's foreign policy affairs Helga Schmid will meet after the expert meeting which ended in Istanbul today.
After a meeting between Baqeri and Schmid, Jalili and Ashton will meet again. The talks followed three rounds of negotiations between Iran and six world powers that have failed to produce a breakthrough.
It was agreed in Istanbul that Baqeri and Schmid would meet but no date has yet been set, an official who could not be named under EU rules told AP.
The meeting in Istanbul was led by nuclear expert Stephan Klement on behalf of EU foreign policy chief Catherine Ashton.
The statement said experts from the Group 5+1 (the five permanent UN Security Council members plus Germany) had met with the Iranian team, and "provided further detail of the 5+1 proposal given to Iran in Baghdad (while) Iran shared further detail of their proposal; and the experts explored positions on a number of technical subjects."