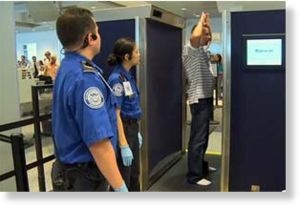 In case you haven't heard, Congress wants the TSA to reduce staff and siphon costs. But members took issue Tuesday with a system that's supposed to do just that.
The TSA wants to purchase technology that automatically validates boarding passes and identifies fake documents. Administrators say the system, known in longhand as Credential Authentication Technology - Boarding Pass Scanning Systems, would add extra padding to the agency's risk-based security focus.
But it's not clear whether it would actually work.
"As TSA attempts to re-brand itself as a threat-driven agency, [the automated screening system] sticks out like a sore thumb," Mike Rogers (R-Ala.), Homeland Security's transportation security subcommittee chairman said at a hearing on the technology.
The system, currently tested at three airports, does not check IDs with state and federal databases. No cost-benefit analysis has yet to weigh its value against manual screeners. And a GAO report released Tuesday had some qualms with TSA's estimate that 4,000 units would cost about $130 million and last 20 years. The agency purchased 30 units just last year.
Kelly Hoggan, the assistant administrator at TSA's Office of Security Capabilities, said the agency has concerns with its current effectiveness and will delay the equipment purchase until next year.
"There's some issues with name matches, presentation with names, some issues as relates to IDs," he told the subcommittee. "These are all little things we're looking at."
TSA employees glance at more than 2,400 ID variations, Hoggan said. An automated screener will know when a license from Illinois or a Swedish passport matches the official designation. "It's very difficult for Transportation Security officers over time to continue that high level of efficiency," he said. "This allows the opportunity to ensure that the people who are traveling are who they say they are."
If TSA can get it going.
Stephen Lord, who authored the GAO report, questioned the system's readiness in light of TSA's previous purchasing debacles. Earlier this year, a GAO report found that TSA did not follow acquisition policies when purchasing its body scanners. The House Transportation & Infrastructure and Oversight committees also have slammed TSA for equipment procurement problems.
"The major lesson is slow down the train if you have to," Lord said.
Rep. Chip Cravaack (R-Minn.), a former pilot and subcommittee member, said he didn't want the new technology to turn into a "puffer machine" scenario of malfunction and distress.
"It's a good idea but it hasn't reached fruition yet," he told
POLITICO
.
TSA had planned to purchase the screeners in December.