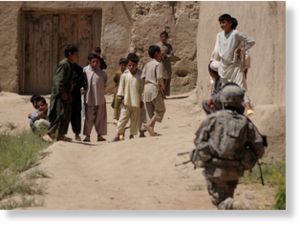 Taliban insurgents have ordered schools in an Afghan district where a NATO air strike
killed 18 civilians
to close for three days to mourn the dead, officials said.
The civilians died in an operation against insurgents Wednesday in Baraki Barak, a heavily populated district in Logar province, just south of the capital Kabul.
The US commander of NATO forces General John Allen apologised in a meeting with President Hamid Karzai and gave a commitment that his forces would no longer carry out air strikes in residential areas, Karzai's office said.
"The Taliban have threatened the residents and teachers to not go to schools for three days. They say it's to mourn the deaths of the civilians," district governor Sayed Wakil Agha told AFP.
Most schools closed after the warning, he added.
Baraki Barak resident Shah Mahmood said his three children were sent home by teachers on Sunday.
"I have three kids. They went to school this morning but they were told that the school was closed for three days," he said.
Taliban spokesman Zabihullah Mujahid attempted to play down the insurgents' role in the school closures, telling AFP that "residents are behind this decision".
The Taliban regularly exploit outrage over civilian deaths caused by NATO in an attempt to turn people against the Western-backed Karzai government.