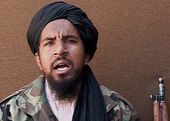 Deputy al-Qaida leader Abu Yahya al-Libi was killed in a drone strike in Pakistan, U.S. officials told NBC News.
A U.S. drone struck a militant compound early Monday morning in North Waziristan, part of Pakistan's northwestern tribal area. Pakistan security reports indicated the pre-dawn strike killed 15 insurgents. That brought the total killed in three attacks over the past several days to nearly 30.
Al-Libi was a leading al-Qaida operative who was viewed as one of five candidates to succeed Osama bin Laden as leader of the terrorist group when he was killed last year.