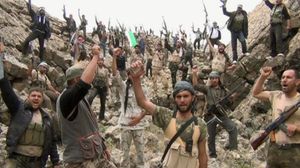 The terrorist Free Syrian Army (FSA) has abandoned the peace plan brokered by UN-Arab League envoy Kofi Annan, resuming its deadly attacks.
The terrorist group said on Monday that it has abandoned the ceasefire after the Syrian government gave no response to the rebels' deadline. The rebels had earlier threatened to abandon the ceasefire unless the army stops its operations against armed groups by Friday.
Major Sami al-Kurdi, a Free Syrian Army spokesman, said the rebels were no longer bound by the truce after their Friday deadline passed.
FSA had earlier urged Annan to issue a statement declaring his peace plan to have failed.
The announcement of rebels' abandoning the ceasefire and resuming their attacks comes as the Syrian Observatory for Human Rights said that Free Syrian Army has killed over 100 soldiers across the country over the weekend.
Damascus has repeatedly accused the armed groups fighting against the government of violating the ceasefire since it was declared on 12 April as part of Annan's six-point peace plan to end months of unrest in Syria.
Syria has been experiencing unrest since mid-March 2011. Many people, including hundreds of security forces, have been killed in the country over the past 15 months. While the West and the Syrian opposition say the government is responsible for the killings, Damascus blames "outlaws, saboteurs and armed terrorist groups" for the unrest, insisting that it is being orchestrated from abroad.