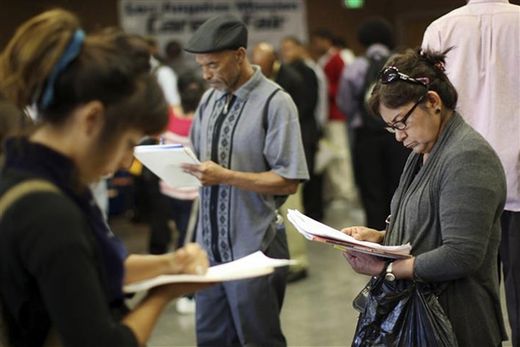 The U.S. economy created a scant 69,000 jobs in May, much lower than expected and all but confirming that the U.S. economy is heading into its third consecutive spring slowdown.
The Labor Department reported Friday that the unemployment rate edged up to 8.2 percent, its first increase in 11 months, as American employers fretted over Europe, higher pump prices and the persistent problems in the housing market.
Non-farm payrolls rose by 69,000, the lowest increase in a year and well below the 150,000 jobs that economists had expected. The previous two months' numbers were also revised lower, adding to the concerns about a sputtering recovery.
"It's an awful number. Not only is it awful in its numerical terms, it comes at a very skittish time in the markets because of the European crisis," said Rick Meckler, president of Libertyview Capital Management.
"The hope for the U.S. investors had been that the U.S. economy at least could continue its growth even as Europe was declining. A number like this brings concern about a global slowdown. The time has probably come to for some new government action in the U.S., Europe and China," Meckler said.
The news came after a government report Thursday that showed the U.S. economy expanded at a 1.9 percent annualized rate in the first quarter, below the initial estimate of 2.2 percent and much slower than the 3.0 percent pace clocked in the fourth quarter. Both reports spelled trouble for President Barack Obama as he battles for re-election against former Massachusetts Gov. Mitt Romney.
"Today's weak jobs report is devastating news for American workers and American families," Romney said in a statement shortly after the data was released.
The Obama administration said that while the jobs data was unacceptable, Congress needed to act to help the economy.
"Congress has to take some action because while we see the unemployment rate where it is, it's not acceptable," Solis told CNBC.