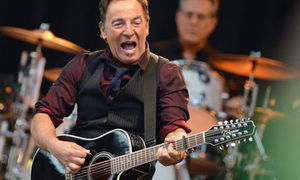 Rocker taps into anger at financial world, dedicating anti-bank song to 'those who are struggling in Europe and Berlin'
Bruce Springsteen has touched on a nerve of widespread discontent with financiers and bankers while performing a concert in Berlin.
Springsteen played to a sold-out crowd at Berlin's Olympiastadion, singing from his album Wrecking Ball and speaking about tough economic times that have put people out of work worldwide and led to debt crises in Greece and other countries.
"In America a lot of people have lost their jobs," said Springsteen, 62, who performed for three hours to 58,000 fans in the stadium that hosted the 1936 Olympics and 2006 World Cup final.
"But also in Europe and in Berlin, times are tough," he said, speaking in German. "This song is for all those who are struggling." He then introduced Jack of All Trades, a withering attack on bankers that includes the lyrics: "The banker man grows fat, working man grows thin."
Europe has been especially hard hit since 2008's financial meltdown that sparked an enduring sovereign debt crisis. Unemployment on the continent has risen to levels not seen since the 1990s.
Springsteen's Wrecking Ball tour began on 13 May in Spain, which is struggling with its crushing debt load, and runs for two and a half months with 33 stops in 15 countries before concluding on 31 July in Helsinki.
Berlin has been a special place for Springsteen since his July 1988 concert behind the old Iron Curtain in East Berlin.
Watched by 160,000 people, it was the biggest rock show in East German history, and The Boss spoke out against the "barriers" keeping East Germans prisoners in their country. Some historians have said the concert fed into a movement gaining moment at the time that contributed to the tearing down of the Berlin Wall 16 months later in November 1989.
"Once in a while you play a place, a show that ends up staying inside of you, living with you for the rest of your life," he told the crowd on Wednesday after being handed a poster from a fan thanking him for the 1988 concert. "East Berlin in 1988 was certainly one of them."
Germany has weathered the financial crisis well so far but Berlin itself is struggling with double-digit unemployment, low wages and a high incidence of poverty.
"The financial world has caused us all a lot of our problems and Springsteen has always been a critical spirit - that's what I like about him," said Kathleen Wapp, a 42-year-old doctor's assistant from Wolfsburg who was at the show. "I like the way he's not afraid to put a critical light on the key issues."
"I think it's great the way he's taking on the banking industry - he's got it dead right," said Matthias Beck, 46, a carpenter from Leipzig. "There's hardly anything good about banks. They take advantage of the little people and it's always hard to find someone who'll take responsibility when it all goes wrong."
Source: Reuters