The father of the
man who opened fire and killed five people across Seattle
, and later killed himself after a citywide manhunt, says his son was a very private person who was "disgruntled" and that he was a frequent customer at the coffee shop where his rampage began.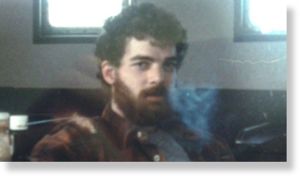 "He was happy sometimes, but not really. He was kind of disgruntled," Walt Stawicki said about his son Ian Stawicki, who fatally shot himself after a killing spree on Wednesday.
Seattle's Harborview Medical Center confirmed that Ian Stawicki, who according to his father was unmarried with no children and had recently worked on a fishing processing boat in Alaska, died at 6 p.m. PDT Wednesday.
After the shootings began at approximately 11 a.m. PDT, when Stawicki opened fire at Cafe Racer Espresso in Seattle's University District, eventually killing four people, he killed a fifth random woman in a subsequent confrontation and stole her car.
Two victims died at the scene at Cafe Racer Espresso, while two more died later after being taken to Harborview Medical Center. People who were brought to the hospital had suffered gunshot wounds to the head, according to Susan Gregg, a hospital spokeswoman.
According to the
Seattle Times
, two of the victims at the cafe were Joe "Vito" Albanese, 52, who was killed along with best friend Drew Keriakedes, 45; the two men were in a band called God's Favorite Beefcake. The two other victims shot at the cafe have not yet been identified.
The
Seattle Times
reports that the only survivor of today's shootings is Leonard Meuse, who is currently out of surgery at Harborview Medical Center after being shot in the jaw and the armpit. Meuse is expected to survive.
Though it was unclear what prompted the cafe shooting, Ian's brother Andrew Stawicki said that his girlfriend said he was acting "kind of crazy" Wednesday morning, and she would not let him have a car.
Ian apparently had his mother's pickup truck on Wednesday; the family currently does not know where the vehicle is located.
The late Wednesday morning shooting set off a massive manhunt throughout Seattle. Earlier in the day Seattle police had tweeted that the suspect "is still alive and receiving treatment at Harborview Medical Center."
The second shooting incident occurred in downtown Seattle, about a 15-minute drive from the cafe.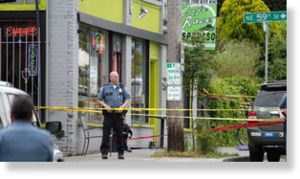 "It appears that about 30 minutes after the shooting at the cafe, the suspect in the cafe shooting fled to First Hill, where he fatally shot a woman in a parking lot, and stole her SUV,"
police wrote in a blog post
on the shootings.
Ian Stawicki did not know married mother of two Gloria Leonidas, the woman he killed in the second shooting incident, according to his father. Koch reportedly died after being transported to Harborview Medical Center.
The area where the suspect shot himself was about seven miles southwest of downtown Seattle -- about a mile to a mile and a half from where the suspect's stolen black SUV was found abandoned with a gun on the seat, according to police.
During a search of the area, a detective spotted the suspect on the street and started watching him, police said. When back-up officers arrived and started moving toward the man, he turned to the officers and the officers ordered him to drop his weapon.
Instead, the suspect put a firearm to his head and pulled the trigger, firing one shot, and immediately dropped to the ground.
"Based on evidence recovered during today's investigations, SPD believes a lone suspect is responsible for the murders in Roosevelt and First Hill," police said in the blog post. "Still, neighbors should expect to see a heightened police presence as detectives work to confirm links between the two tragic incidents."
Roosevelt High School, which is near the cafe, was put on lockdown while police armed with rifles continued to search the area.
Two other nearby schools, Greenwood Elementary School and Eckstein Middle School, were put on a modified lockdown, the
Seattle Post-Intelligencer
reported.
No one answered the phone at Cafe Racer. A recorded message urged callers to "remember to come visit us, where we keep safety third."
"We've had two tragic shootings today that have shaken this city," Seattle Mayor Mike McGinn told reporters.
He said he has asked police to find ways to end the gun violence.
"It's their highest priority to identify the strategies we need to employ to try to bring an end to this wave of gun violence that this city is seeing," he said.
ABC News' Kevin Dolak, Josh Haskell, John Capell and ABC News Radio contributed to this report.