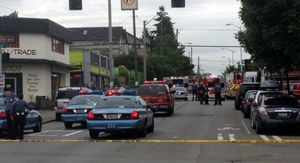 A man with a gun is on the loose in North Seattle and police are telling people to stay out of the area around 5800 block of Roosevelt Way Northeast.
Two people were killed, another had life-threatening injuries and and the suspect was last seen fleeing northbound. He is described as a white man, 30-40, 6 feet tall with a medium build. Police say he has a goatee or beard and is wearing a dark shirt.
Seattle police armed with rifles were combing streets near where the victims were shot. The man was believed to be carrying a large semi-automatic handgun.
Police said the shooting happened at Cafe Racer, a bar that also serves espresso at 5828 Roosevelt Way Northeast.
At some point before the Roosevelt shooting, someone reported a suicidal man making suicidal threats. Investigators were checking to see if there was a connection to the shooting, though officials did not immediately link the two incidents.
Roosevelt High School was put on lockdown. Greenwood Elementary School and Eckstein Middle School were put on a modified lockdown as police searched for the shooter.