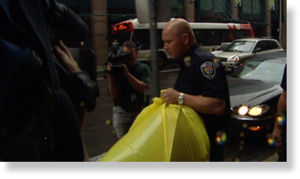 Canada - An Ottawa coroner has confirmed a package delivered Tuesday to the Conservative Party of Canada's headquarters in downtown Ottawa contained a human foot.
Police removed the foot in a yellow bag during the early evening from the 12th floor of 130 Albert St. after a day-long investigation.
Police were called to the building at 11:20 a.m. ET after a suspicious package was delivered there. Police called for the hazardous materials unit after they noticed what appeared to be blood on the package.
The Hazmat Unit and Emergency Operations Section inspected the package and determined that there was possibly a human foot in the box, police said
Ottawa police Staff Sgt. Bruce Pirt said major crimes investigators have taken over the HAZMAT call because if it is a human foot, "There's a body without one."
Package delivered through Canada Post
Pirt said the suspicious package was delivered through Canada Post and police will be tracking its origin.
Ottawa police Sgt. Steve Hodgson told reporters outside the building that the package was still inside.
The RCMP and Montreal police are also investigating the discovery of a human torso in a pile of garbage in the Côte-des-Neiges borough, west of Décarie Boulevard and checking to see if there is any link to the package found in Ottawa.
Hodgson said Conservative Party staff members were shaken up by the incident but in good spirits.
Conservative Party spokesman Fred DeLorey said Ottawa police are investigating and all questions should be referred to them.
Several Members of Parliament said they were caught off guard by the news.
"It's shocking for somebody to do that," said Labour Minister Lisa Raitt. "I'd hate to be the one opening that."