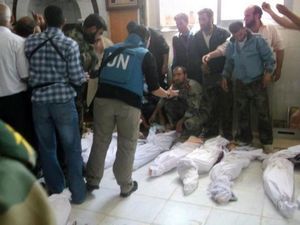 The new Iranian Majlis (parliament) has strongly condemned the ruthless massacre of defenseless Syrians in Houla, saying the US is responsible for the attack.
"The barbaric massacre of the innocent people of Houla, in Homs, is reminiscent of the merciless terrorist atrocities in Sabra and Shatila and is a blatant symbol of terrorist acts and mass murder in this juncture of human history," the 9th Majlis lawmakers said in a statement Monday.
On May 25, deadly clashes broke out between Syrian forces and armed groups in Houla, located in the central province of Homs.
Head of the UN observer mission in Syria Major General Robert Mood said in a briefing via video from Damascus to an emergency meeting of the UN Security Council on Sunday that UN observers in Houla estimate 108 people were killed, including 49 children and 34 women.
The Iranian lawmakers said there is no doubt the terrorists responsible for such atrocities are armed and trained by the West and its regional allies and are dispatched into Syria by some of its neighbors.
"The US should be held accountable for its incorrect policies in Syria," they said.
The lawmakers called on the United Nations Security Council to prevent the shipment of weapons into Syria.
Earlier, Iran's Foreign Ministry Spokesman Ramin Mehmanparast also condemned the ''suspicious attack" in the village of Houla and stressed the necessity of identifying and punishing the perpetrators.
"The attack has been carried out in order to create chaos and instability in Syria and its perpetrators are trying to block the way to a peaceful resolution," Mehmanparast said on Sunday.