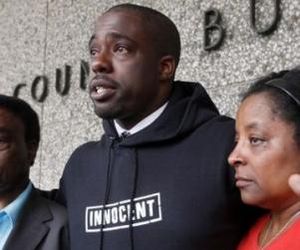 Ten years ago, Brian Banks was the fiercest middle linebacker on the Long Beach Polytechnic High roster. Renowned schools like the University of Southern California (USC), Ohio State University (OSU) and the University of Michigan (UM), institutions that only scout out the best of the best, all recruited him for their squads.
A Cali kid through and through, though, Banks insists that he was ready to sign with the USC Trojans. It
should
have been a fairly tale story from there. Play for the best football program on the West Coast. Shine like he did in high school. Turn pro. Garner the sort of money, power and prestige that comes standard with being a big time star. Live happily ever after.
Too bad it didn't play out like that. Instead, the 16-year-old Banks was arrested for raping his childhood friend, Wanetta Gibson, at their high school.
Gibson accused Banks -- who was apparently close to Banks since middle school -- of taking her into the elevator and sexually assaulting her. Her alleging that he took her into the elevator to assault her was a key component, because it added a "kidnapping enhancement" to the serious charges Banks was already facing.
Under extreme pressure, and on the wrong end of some terrifying accusations, per the advice of his lawyer, Banks pleaded no contest to the charges. Instead of getting 18 months, he would go on to serve more than five years in prison.
After he did his time, Banks got out and went about doing his best to live a normal life. Then, one day, he got a message that would change everything in his Facebook messages box. Gibson, his accuser, had friended him. The pair eventually met up in what must have been the most freakishly awkward face-to-face meeting ever and, at the meeting,
Gibson admitted that she had made the whole thing up.
There had been no rape; Banks had wasted five-plus years of his life for nothing. Presumably in an effort to partially right that wrong, Gibson offered to help clear his name and record.
There was a catch, though.
While Banks was toiling away in jail for something that he hadn't done, Gibson and her family had financially benefitted from the incident.
In the aftermath of the rape accusations, Gibson's mother brought a civil suit against Long Beach schools - a civil suit that ultimately netted the family $1.5 million.
Even though the money was tainted, nobody wanted to give that cash back and, so, Gibson refused to repeat what she had previously admitted.
Realizing what and who he was dealing with, Banks arranged a second meeting with Gibson to discuss everything - only this time he videotaped it. With that material in hand, Banks and his defense team took the new evidence to court.
This past Thursday, 10 years too late, Banks' name was cleared.