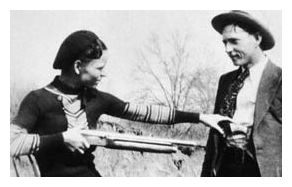 Put the money in the pocketbook, and no one gets hurt.Lady criminals are staking their claim in the face of recent economic strains, with one in 10 bank heists in the U.S. being pulled by women.
The
Daily Beast reports
the number of female driven robberies has doubled over the past decade, unable to avoid the line: "Why today's Bonnies aren't waiting for a Clyde."
A week ago, the FBI took suspected femme-fatale Johanna Quish into custody. She's believed to be responsible for
a string of bank robberies committed over the past month
in the Greater Boston area. Quish is the latest in a trend that's turning a few heads, and raking in a whole new batch of bank-robbing monikers.
Among them are the 'Barbie Bandits'--Heather Johnston and Ashley Miller--who met while dancing at the same strip club. They gained notoriety in 2007 after holding up a Bank of America branch in Georgia. Then there is Candice R. Martinez, aka the 'Cell Phone Bandit,' who knocked over a Wachovia, three years before the bank was acquired by Wells Fargo, in 2006. She stole upwards of $40,000, reportedly chatting on the phone with her boyfriend the entire time.
There's the 'Bad Hair Bandit,' who became famous for her ratty wigs, one of which she donned while
holding up a US Bank,
a division of USBancorp, in 2010. She would feature many more badly placed hair pieces over the 20 subsequent robberies committed before her 2011 arrest. The Starlet Bandit donned a wig as well, along with sunglasses, making sure she looked the part while robbing a Los Angeles Citibank in 2010, her last in a string of ten local heists before being caught.
Forensic Psychologist Rosmary Erickson has been tracking this recent demographic shift, and explains what makes female bank robbers so unique.
"Women have always been more likely to rob for need and not for the thrill. It's more likely they're going to be robbing for diapers for the baby or something. For females, it tends not to be a profession. It tends not to be what they do."
After getting caught in 2009, the Beauty Salon Bandit, 46-year-old Norma Bladeras-Dehernandez, revealed she forayed into bank robbing after her husband walked out, her beauty salon went under, and creditors began closing in. The Mama Bandit, 37-year-old Erica Anderson, who in 2010 robbed a bank on the way to pick up her two of her five children from school, was feeling similar pressures.
How bank robberies are going down is changing as well. There are no machine guns being waved in the air, hostages being rounded up on floors or day long standoffs being waged against the police. Lady robbers are taking a calm and considerate approach to the old-fashioned, America crime of sticking-up. Erickson goes on to say,
"Violence is still a male purview...When women enter any vocation, that vocation changes in some way.
It seems the typical female bank robber favors a brief missive over a weighty glock, like one recent thief in Chicago, who passed a teller a plastic bag and a brief note that read: "put the money in the bag now." Lady bank thieves don't take. They simply ask.
Male bank robbers are taking a hint.
51-year-old Donald Sherman, tried to rob an MB Financial branch last Monday wearing a "flower-print dress, sunglasses and a baseball cap stitched with the word 'Obama.' However, unlike his female counterparts, Sherman chose to use violent threats, claiming he would set off a bomb if the teller didn't fork over $70,000.
When Sherman was later detained by police, there was no bomb on his person. All authorities could find were two inflated balloons beneath his dress in the place of breasts.