A French journalist has accused President Nicolas Sarkozy of inciting hatred against the media after she was allegedly assaulted at a political rally organised by the ruling UMP party.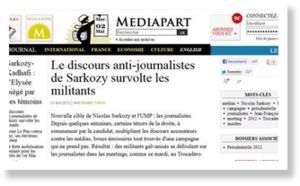 A French journalist has made an official police complaint after allegedly being assaulted on Tuesday by Sarkozy's UMP party supporters.
Marine Turchi, a 29-year-old political reporter for the online news site Mediapart, told Turchi that she had been cornered and surrounded by a "baying mob" chanting "dirty leftist" during a Sarkozy campaign rally in Paris.
"A man grabbed the press badge that was around my neck and held it up shouting that I was a Mediapart journalist," Turchi said on Wednesday. "People all around started chanting 'here they are' and 'dirty leftist'".
"No one came to help, I was genuinely afraid of being violently attacked."
Turchi told FRANCE24 that it was the "umpteenth time" she had been insulted by UMP activists, often older activists in their 50s and 60s.
She believes UMP party leaders should be held responsible for inciting anger against journalists and against the media in general. She had made the official complaint because she was "utterly fed up" with the "constant harassment".
"It's been happening since March," she said. "Systematically, at the beginning of their speeches, Sarkozy and his senior party members begin by attacking the press. It rubs off on the supporters who feel that it is entirely legitimate to insult us.
"When you work up a crowd of 70,000 to booing and whistling their disgust at the media, you have to take responsibility for their actions."
Anger at all of the media
Left-leaning information site Mediapart has been the subject of particular ire from the UMP since it published a story on April 29 alleging that Sarkozy received 50 million euros in illegal campaign funding in 2007 from Libya - accusations that the UMP has strenuously denied.
But Mediapart is certainly not the only media organization that says it has come under fire from the UMP and its supporters.
"Apart from [right-wing pro-government daily]
le Figaro
, the anger of the activists is directed at the media in general," said Turchi.
At one UMP meeting at Saint Cyr on August 22, FRANCE 24 reporter Lise Barcellini said the incumbent president denounced the media at length.
"The tone got worse, people starting whistling at the media and chanting that the journalists had 'sold out'," she said.
According to Barcellini, militants at a UMP rally in Toulouse on April 29 blocked her from entering the venue and insulted her and other journalists once they were inside.
UMP supporters, she said, "were on the verge of outright fury" - without even inquiring whom she was reporting for.
And when asked to respond to questions about poll results and the possibility of a Sarkozy defeat "they became aggressive and accused the whole media of skewing reality."
FRANCE 24 contacted the UMP press office for a reaction on Wednesday but had received no response when this article was published.