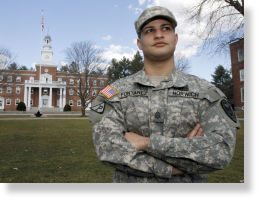 US: Northfield, Vermont - At the beginning of the school year, gay pride events at a military academy with titles like "condom Olympics" and "queer prom" would have been unthinkable. This week, they're a reality.
Cadets in uniform at Norwich University, the nation's oldest private military academy, participated Monday in sessions about handling bullying and harassment as part of the school's first gay pride week. The events are believed to be the first of their kind on a military campus.
Just over six months after the end of the "don't ask, don't tell" rule that prohibited gays and lesbians from serving openly in the armed forces, it's a different - and less secretive - world.
Until last year, only a select few at Norwich knew of the sexual orientation of Joshua Fontanez, 22, of Browns Mills, N.J., a past president of the student government who quietly laid the groundwork for the school's Lesbian, Gay, Bisexual, Transgender, Questioning and Allies Club, which held its first meeting the day the law ended.
He had always wanted to be a soldier but figured he'd have to keep his sexuality a secret.
"The aspects of my sexual orientation, how that played in the military, that was something I was willing to sacrifice, being open versus serving my nation," Fontanez said. "It's something I feel I was truly called toward and truly loved, so it's great that I don't have necessarily to make that sacrifice."
In December, a group of students at the U.S. Coast Guard Academy in New London, Conn., formed a group called Spectrum, which has many of the same goals as the Norwich club. A similar organization with the same name is being formed in New York at the U.S. Military Academy at West Point.
For many of the newly open student leaders, the changes brought by the end of "don't ask, don't tell" haven't overwhelmed, despite the years-long political wrangling that culminated in the policy change.
"It was definitely a big change, but it happened over such a long period of time for me that it didn't seem like that big of a deal," said Coast Guard Academy Senior Chip Hall, 21, of Monterrey, Calif.
The West Point Spectrum, modeled after the Coast Guard organization, is being formed with little fanfare.
"Everyone has been very professional here at the academy," said West Point Cadet Andrew Fitzsimmons, 19, a sophomore from Algonac, Mich. "It's been a very positive environment."
A group of alumni called Knights Out will hold a campus dinner this weekend and is expecting at least a dozen cadets to attend, said the group's director, Sue Fulton, a 1980 West Point graduate who was among the first women admitted to the academy.
"The official status has changed dramatically, in that public events that would have been prohibited are happening; but in terms of attitudes, I think cadets and midshipmen have long been supportive of their gay and lesbian classmates," Fulton said.
Norwich, established in 1819, has about 1,300 cadets and 1,100 civilian students. About 115 of the 200 graduating cadets plan to be commissioned in the armed forces through ROTC.
The gay student club is believed to be the first of its kind in the country on a military campus, Norwich officials said. Thirty to 35 people attend meetings.
The events this week - held at a different time of year from many other gay pride events, which usually are observed in June or October - include discussions of HIV testing; the "condom Olympics," in which prophylactics are given as prizes; and a dance at which same-sex partners are welcome.
As an institution, Norwich never banned open homosexuality in the corps of cadets, but because many of its students were destined for the military, which prior to the end of "don't ask don't tell" the law served to keep people quiet, said Norwich spokeswoman Daphne Larkin.
Some members of Norwich's Christian Fellowship have been uncomfortable with gay student club, but the two organizations have worked together, with members of each attending some of the other's meetings, said biology emeritus professor Carlos Pinkham, the Christian group's faculty adviser.
"We make it clear to them that we use the bible as our guide and that as a result we can't condone the stuff they do," Pinkham said. "But the Bible is also equally clear, in fact, even more clear. ... Being judgmental about the sin without extending love to the sinner is another form of sin."
The groups are a consequence of changing times, said Norwich Vice President Michael Kelley, a 1974 graduate who spent 27 years in the military before returning to academia. He noted the school was among the first to allow female cadets.
"It's saying that we as a military community are looking to more to the future, that we're not quibbling about the past, what was or what wasn't," he said, "that we can take a leadership role to help move our students to a more enlightened future."
Source: The Associated Press