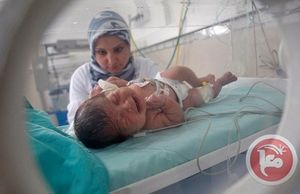 Gaza City (Ma'an) -- A seven-month-old baby in Gaza died on Friday evening after medical equipment he was connected to switched off as a result of a power cut, a Hamas-affiliated TV channel said.
Gaza medical spokesman Adham Abu Salmiya confirmed the incident, adding that the infant was born with respiratory problems and doctors had recommended the use of mechanical breathing apparatus to be used at home.
The father of the child had turned on the apparatus before going to sleep but during the night
a power cut
caused it to switch off, resulting in the infant's death, Hamas' Al-Aqsa TV reported.
The child was the "first victim of the current power crisis in Gaza," Abu Salmiya said, warning that the medical sector in the coastal enclave is in jeopardy.
Recent fuel shortages have had
a catastrophic effect on daily life in the Gaza Strip, with people facing daily power cuts of up to 18 hours a day.