Thousands of people have taken part in a memorial service in northern Belgium for 15 children and two adults killed in a coach crash in a Swiss tunnel.
Two large screens were erected outside the community centre in Lommel because of the large numbers attending.
Of the 28 who died when their coach crashed in Switzerland on 13 March, 17 were from Lommel. Six of the children had Dutch nationality.
Members of the Belgian and Dutch royal families attended the service.
White balloons
Lommel, where 15 of the dead children attended the Stekske primary school, is close to the Dutch border.
The coffins of 14 children and their teacher were brought into the community centre by military escort. Photographs of the two other victims from the Lommel school were also carried in.
One - an administrative assistant at the school - has already been buried in private. Another of the children is also being buried separately.
White balloons and wreaths of white flowers decorated the route to the hall, and the bodies of the children, all aged 11 and 12, were carried in small white coffins.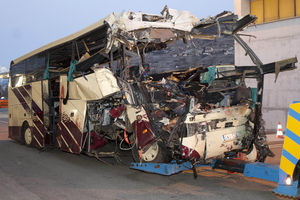 The mayor of Lommel, Peter Vanvelthoven, gave an emotional eulogy in which he said there was nothing worse for a parent than to lose the thing they loved the most.
Mr Vanvelthoven paid his respects to the victims by quoting the lyrics of a Dutch song: "Too much future has been taken from us, there's been too much pain".
The mother of one of the victims said of her daughter that "she loved writing stories. She loved going to school and adored all the teachers."
Belgian media estimate that 10,000 people watched the ceremony on the two screens outside.
Private burials
A church service will be held on Thursday for victims from the second school involved, in the town of Heverlee east of Brussels.
Today's service in Lommel is being followed by private family burials, with most of the children and their teacher being buried alongside each other in the town's cemetery.
Swiss President Eveline Widmer-Schlumpf and members of the Swiss rescue services who pulled the children from the wreckage and air-lifted them to hospital also attended the Lommel memorial service.
The mourners were led by King Albert II of Belgium and Queen Paola, and by Dutch Crown Prince Willem-Alexander and his wife, Maxima.
Belgian Prime Minister Elio Di Rupo and his Dutch counterpart Marc Rutte also attended the ceremony, which was relayed on two giant screens outside the community centre.