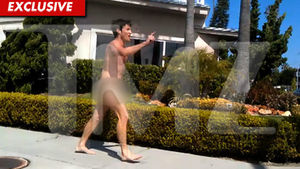 KONY 2012 director Jason Russell describes himself as a radical, rebel soul and dream evangelist.
"If Oprah, Steven Spielberg and Bono had a baby, I would be that baby," he told a magazine last year.
Now he can add another attribute to the list, one that Oprah, Spielberg and Bono are unlikely to approve of: man who runs through the street naked ranting about the devil.
Russell, the co-founder of controversial charity Invisible Children, was taken to a psychiatric ward in San Diego, California, on Thursday after suffering a meltdown in public. He is to be released later today.
TMZ
released video footage
of Russell hitting the pavement with his fists, swearing to himself and shouting.
It was claimed that Russell was also caught masturbating in the street.
His wife, Danica, blamed the breakdown on the criticism Kony 2012 has attracted.
She denied that he had been drunk or using drugs.
The CEO of Invisible Children, Ben Keesey, said in a statement: "Jason Russell was unfortunately hospitalised yesterday suffering from exhaustion, dehydration, and malnutrition. He is now receiving medical care and is focused on getting better.
"The past two weeks have taken a severe emotional toll on all of us, Jason especially, and that toll manifested itself in an unfortunate incident yesterday.
"Jason's passion and his work have done so much to help so many, and we are devastated to see him dealing with this personal health issue.
''We will always love and support Jason, and we ask that you give his entire family privacy during this difficult time."
Invisible Children has come under fire for its campaign, which seeks to bring Joseph Kony, the Ugandan leader of the violent Lord's Resistance Army, to justice for crimes against humanity.
Many have criticised the charity for how it spends its money.
In an official account of the $13.7 million it raised in the 2010-11 financial year, $8.8 million was allocated for expenses - including filming costs, transportation and production.
The Prime Minister of Uganda is the latest to pile pressure on the charity.
Amama Mbabazi said Kony 2012 gave a "false impression" and that the warlord at the centre of the controversial charity's film, Joseph Kony, was no longer in Uganda.
"The Kony 2012 campaign fails to make one crucial point clear. Joseph Kony is not in Uganda," he said in video posted on YouTube (scroll down to see video).
He said the Kony 2012 video gave a false impression about the situation in Uganda, adding that his country did not "need a slick video on YouTube ... to take notice" of Joseph Kony's crimes.
Russell, who is described on the Invisible Children website as "our grand storyteller and dreamer", began the Kony campaign after he traveled to Gulu, northern Uganda in 2003 and befriending a local boy, Jacob Acaye.
Jacob was one of the children hiding from Kony's brutal regime, a regime that claimed the life of his brother. Jacob watched him die.
Russell co-founded Invisible Children as a not-for-profit organisation tasked with "advocacy and inspiring America's youth to 'do more than just watch'".
He has said he is attracted to pregnant women and he has a son whose middle name is Danger.