Mother allegedly sliced kids' throats and started blaze; children in critical condition

A mother accused of slashing her children's throats and setting fire to the family's apartment had removed the unit's inside doorknob, sealed vents, covered sprinklers and disabled the smoke alarm, prosecutors said Monday at the woman's arraignment.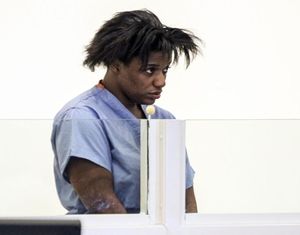 Tanicia Goodwin was ordered held without bail pending an appearance in court next week. A judge will then decide if she's eligible for bail on two counts of assault with intent to murder, two counts of assault and battery with a dangerous weapon, and arson.
The 25-year-old Goodwin didn't enter a plea.
She held her head low and didn't speak in court other than to answer in the affirmative when the judge asked if she needed a court-appointed lawyer.
Firefighters responding to reports of a fire on the seventh floor of the Salem Heights apartment complex at about 9:15 p.m. Sunday found Goodwin and her 3-year-old daughter, Erica, in a neighbor's apartment. The girl had a laceration to her neck, and Goodwin was also suffering from what was described in court as a "superficial" wound to her neck.
Goodwin's 8-year-old son, Jamal, was found inside the family's apartment with a neck wound so deep his trachea was exposed, Assistant District Attorney Melissa Woodard said.
Both children were flown to Children's Hospital Boston in critical condition.
Goodwin told police: "I did what I had to do to protect my children," the prosecutor said, but there was no indication that anyone else was involved.
"I'm not supposed to be here. I'm not supposed to be alive," Goodwin told police, according to prosecutors.
Goodwin admitted to police that she had hurt the children, and when asked if his mother had done it, the boy nodded, prosecutors said.
There was no indication of drug or alcohol use, Woodard said. No possible motive was disclosed by either the prosecutor or Goodwin's lawyer.