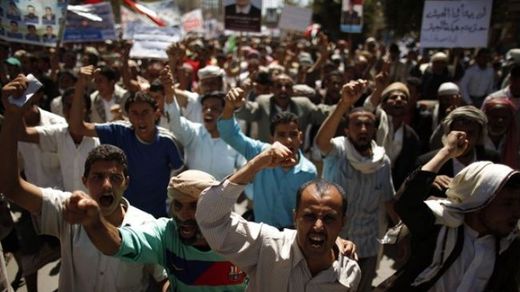 Tens of thousands of Yemenis have staged demonstrations across the country to call for the prosecution of the country's former ruler Ali Abdullah Saleh for ordering the crackdown on anti-government protests last year.
On Friday, protestors also demanded the dismissal of Saleh's family members and generals loyal to him who are still in high-level security and military posts,
Xinhua
reported.
A vast crowd of demonstrators who had gathered in a main square in the capital Sana'a chanted slogans such as "People want to prosecute the murderer, Ali Abdullah Saleh," and "We will not accept Saleh's relatives to run our national military."
"No immunity deals for murderers. We will keep raising our voices until we see Saleh behind bars and in the court," Fatima Motahar, a female protester said.
The protesters also called for the release of imprisoned demonstrators who were arrested during the revolution which erupted in early 2011.
In addition to Sana'a, Yemeni demonstrators flooded the streets after Friday prayers in provinces of Sa'ada, Hajjah, Amran, Ibb, al-Bayda, Taizz, and Hadhramaut and in the seaport city of Aden.
Saleh's sons and nephews still hold key positions in the military and intelligence services. Many high-profile figures from the former regime are accused of committing crimes against protesters during the revolution.
Saleh formally stepped down last month following months of anti-regime protests. He was replaced by his deputy, after a single-candidate presidential election backed by the US and Saudi Arabia.
Yemenis want Saleh and his aides prosecuted for the killing of nearly 2,000 people since the revolution in Yemen began last year. Protesters accuse the US and Saudi Arabia of trying to thwart their revolution.