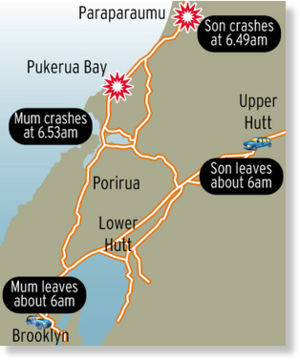 (New Zealand) A mother and her son survived two separate head-on crashes within four minutes of each other on the Kapiti Coast.
Annie Price, 65, of Wellington, is in intensive care after a freak accident at Pukerua Bay.
She was driving north through the township in her Suzuki Escudo when a tyre came off a ute and hit her vehicle, causing her to cross the centre line and crash head-on into an oncoming car.
Just four minutes earlier, her son had also been involved in a head-on smash in which his car was written off.
Anthony O'Halloran, 35, had a "freaky, uneasy" feeling when he left his Upper Hutt home about 6am on Tuesday to head over to the coast, deciding at the last minute not to take his 2-year-old son with him.
"He was meant to come with me but my sister said leave him there.
"As I was going over Haywards I had a funny, uneasy feeling about the day and thought it was best he stayed behind," Mr O'Halloran said.
He was planning to help his mother and stepfather with some work in Paraparaumu.
He turned off State Highway 1 at McKays Crossing and was driving around a corner in nearby Emerald Glen Rd at 6.49am when he saw lights coming straight toward him in the dark.
A Nissan Sentra crossed the centre line and crashed into him.
Despite his Toyota stationwagon being written off, he escaped with only minor injuries.
He said emergency services told him "they had never seen anyone walk away from devastation like that".
"My car was like a piano accordion. All I got was a tiny scratch and a bruise".
As police arrived at the scene, his partner rang. "She said my mother had had a head-on crash. I said, 'Yes, I have'.
"She said, 'Have you had a head-on crash? Your mother has just been in one.'
"It was so bizarre, neither of us have ever had car accidents before. Two head-on crashes, it was unreal."
Mrs Price remains in Wellington Hospital's intensive care unit but is expected to be moved to a ward later this week.
Two other people were taken to hospital to be checked, one of whom had whiplash.
A 19-year-old man in the car that collided with Mr O'Halloran suffered pelvic injuries and was trapped for a while in his vehicle. He was flown to Wellington Hospital because State Highway 1 was blocked by Mrs Price's accident.
Mr O'Halloran was still recovering from the shock yesterday, "very glad" that he and his mother had survived.
"It still hasn't sunk in. It is so bizarre I was really totally unharmed. I am not in any more pain than I would be after a rugby game.
"The scariest thing for me was that my 2-year-old was meant to come with me, then 40 minutes later - bang."
Sergeant Mike George said it was "incredible and bizarre" that both mother and son were involved in head-on crashes, in which neither was at fault, within four minutes of each other.
"It was very, very bizarre. Sometimes reality is stranger than fiction."
For the year ending August 2011, 12,952 people were injured in road crashes, the majority of whom were drivers.
Last year's 284 road deaths in New Zealand were the lowest since 1952.