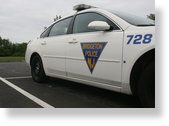 US, New Jersey - A woman who was angry that 7-Eleven did not have any fully-heated sausages for her started attacking an employee and ultimately had to be pepper-sprayed, police said Friday.
Brittany C. Glanville, 25, of West Lincoln Street, was arrested Friday and charged with disorderly conduct.
Chief Mark Ott said an officer responded to the 7-Eleven on West Broad Street when someone set off a panic alarm at 3:05 a.m.
The officer said that as he pulled up he saw Glanville wing an item at the head of the clerk on duty. With quick reflexes the clerk was able to snatch the item out of the air and avoid being hit.
The officer said that as he began to enter the store Glanville was attempting to climb over the counter and go after the clerk, so he immediately arrested her.
He put her in the back of his patrol car where she repeatedly tried kicking out the windows until finally he pepper-sprayed her into submission.
The clerk and other store employees said that Glanville became enraged when there were no sausages ready for her to eat in the store's hot dog cooker.
The officer said she appeared to be intoxicated because of her strange behavior, slurred speech, bloodshot and watery eyes and the distinct odor of alcohol on her breath.
After charging her, police released her on her own recognizance and turned her over to the hospital for evaluation, although no one was available Friday afternoon to say which hospital.
Glanville said she did not wish to offer any comment about the story when reached by telephone around 6:15 p.m.