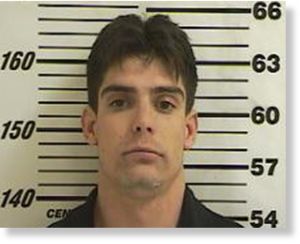 US, Woods Cross, Utah - A Utah man persuaded his son to surrender to authorities after recognizing him as a suspect in a computer store burglary while watching a TV news program, officers said.
The two were eating breakfast Friday morning when the father recognized his son in surveillance tapes that police released on the burglary, said Woods Cross police Detective Adam Osoro.
Jeremy Blair, 26, of Kaysville, turned himself in later Friday to the Davis County Sheriff's Office, the
Standard-Examiner
of Ogden and
Deseret News
reported.
"This case is very unique for a father to recognize that his son has a problem," Osoro said. "It's a hard thing to do, but I think ultimately it's the best thing for the son, and I think the father sees that."
While Blair was booked into the county jail on an unrelated warrant, the county attorney's office is reviewing the burglary case for formal charges.
Blair and another man are accused of smashing the front windows and taking about $6,500 in computer equipment from StarWest Computers in Woods Cross early Monday morning.
Osoro said Blair's father seemed surprised and disappointed by the allegations against his son. He said the father was adamant that his son take responsibility for his actions.
"He's a very responsible guy," Osoro said. "I don't think he's proud of what his son has done."
Josh Holley, owner of Starwest Computers, praised the father's decision to persuade his son to surrender.
"I think that's pretty awesome," he said. "Being a parent myself, that's what I would do."
Blair's family declined to comment. It wasn't immediately clear whether Blair had an attorney. Osoro said Blair refused to talk to him at the jail and asked for a lawyer.
Police are still searching for the other suspect.
The unrelated warrant charges Blair with third-degree felony counts of burglary and criminal mischief.