An investment banker pled guilty Thursday to charges he broke into a Sydney, Australia mansion and strapped a fake "collar bomb" around an 18-year-old girl's neck in a failed extortion attempt.
Paul Douglas Peters, 51, appeared in the Sydney courtroom by video-link from prison, while his lawyer, Kathy Crittenden, entered the plea on his behalf.
"Mr. Peters deeply regrets and is profoundly sorry for the impact that this incident has had on Ms. Pulver and her family," Crittenden told The Associated Press Thursday.
Peters, a former Kentucky resident, reportedly entered the home of Madeleine Pulver in a wealthy suburb of Sydney on Aug. 3 wearing a ski mask and carrying an aluminum baseball bat. After telling her, "Sit down and no one needs to get hurt," Peters strapped a bomb-like device around the girl's neck. He then left her with a note and a computer thumb drive. The note gave instructions to transfer money to Peters and warned that the bomb would explode if removed.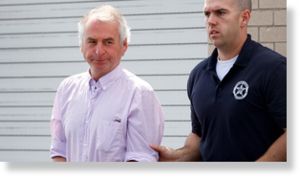 After examining the device for more than 10 hours, police determined the "collar bomb" was a fake and removed it from around the girl's neck. Pulver was uninjured in the incident.
Pulver's father, Bill Pulver, is the chief executive of the software company Appen Butler Hill that specializes in voice recognition software, causing speculation that the extortion attempt specifically targeted the girl's family. Though Peters reportedly worked for a company linked to the Pulver family, they deny ever meeting him before. Observers have also speculated, however, that Peters may have been targeting an affluent acquaintance who also lived in the neighborhood and simply went to the wrong house.
New South Wales police and the FBI arrested Peters at the five-bedroom home of his ex-wife in a suburb of Louisville, Kentucky, on Aug. 15. He was later extradited to Australia where formal charges were made. Peters is a successful investment banker, whose international business caused him to travel often between Australia and the U.S. An Australian native, he had also worked in Hong Kong and Malaysia.
"A poor decision by one man has prompted a truly extraordinary and inspiring response from many thousands of people and we will be forever grateful," Bill Pulver said following Thursday's hearing.
Peters will appear in court later this month for sentencing and faces up to 20 years in prison.
Source: The Associated Press