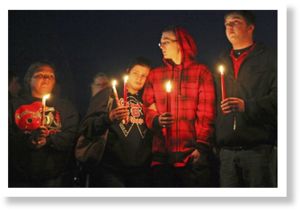 Chardon High School in Ohio this week became the latest school to suffer a multiple fatal shooting and the predictable media storm has ensued. Why does this type of violence fascinate us so?
On Monday this week, 17-year-old TJ Lane apparently walked into the cafeteria of Chardon High School, Ohio, just before 7:30. It was before first period, when students were eating breakfast. Allegedly producing a .22 calibre handgun, Lane shot 10 rounds of ammunition. Three students were killed and three more injured. Lane then fled the building, chased by a teacher, before being apprehended outside the school.
Lane told police he had targeted students at random, but witnesses said he had appeared to focus his ammunition on a group of students sitting at one particular table
. There are now rumours that one of the students who died, Russell King, had recently begun dating Lane's ex-girlfriend, but this has yet to be confirmed. A student at the table who escaped serious injury told CBS that Lane "was silent the whole time. That's what made it so random."
In the aftermath of the shooting, the usual handwringing has begun in the US media about what prompts this type of violence. Students who knew Lane have said he was a quiet loner one of many of the characteristics we have come to associate with perpetrators of school shootings. In reality, though, it appears that there is no standard profile of someone more likely to shoot up a school. The specter of bullying is often raised as providing potential motives for this type of incident, but Lane did not even attend Chardon High School. He was a student at the nearby Lake Academy, a school for "at-risk" youths, though there was contact between the two schools because many Lake students caught a bus departing from Chardon High School.
Geuga County prosecutor David Joyce told media: "This is not about bullying. This is not about drugs". Police chief Tim McKenna, leading the investigation, told reporters, "I cannot provide a motive for this."
Searching about for likely causes to appease a society hungry for explanations and meaning, the media discovered Lane came from a "broken home", his parents never marrying and both having domestic assault charges filed against each other. Lane began living with his grandparents a few years ago, seemingly in response to this. These are likely to play a starring role in narratives constructed to try to explain Lane's actions, because
the idea of unmotivated violence or evil - particularly from someone who is technically still a child - is deeply threatening to society
.
It was precisely this notion that author Lionel Shriver was exploiting when she wrote her 2003 bestseller
We Need To Talk About Kevin
, subsequently turned into a film which is currently playing in South African cinemas (you are advised only to see it if you have a strong stomach). The book is written from the perspective of a mother whose son commits a school shooting, leading her to be ostracised by her community.
The point about Kevin, however, is that he is presented as essentially "pure evil" from birth, motivated by nothing more than a desire to do harm.
Real psychopaths undoubtedly exist, but few school shooters in the past have seemed to fit this category. After 1999's Columbine massacre, however, in which 15 people died, the FBI's psychologists found that one of the two killers, Eric Harris, 17, was likely a psychopath, though his co-shooter Dylan Klebold, 17, was not. Slate described the difference between the two in 2004: "Klebold is easier to comprehend, a more familiar type. He was hotheaded, but depressive and suicidal. He blamed himself for his problems." Harris, by contrast, was
"sweet-faced and well-spoken", while being "cold, calculating and homicidal".
In diagnosing Eric Harris as a psychopath, psychologists drew on evidence such as the disconnect between Harris's presentation to the world and the thoughts he recorded in his diary. For instance, Harris had previously been caught breaking into a van, but had been offered the chance to avoid prosecution by writing a letter of apology to his victim. Harris's letter went beyond mere apology, however, offering declarations of deep empathy: "Jeez, I understand now how you feel" and "I understand what this did to you". At the same time, however, he was writing in his journal that the victim was a "stupid fucking dumbshit", and the "fucker should be shot". FBI psychologists found in general that Eric Harris ticked the boxes of grandiosity, glibness, contempt, lack of empathy and superiority on the checklist used to diagnose psychopathy.
We don't know enough about TJ Lane to say if he might tick these boxes also. But what Eric Harris's example (and the fictional example of Kevin in Lionel Shriver's book) suggest are that having a "stable" middle-class home with concerned and attentive parents is no guarantee that an act of mass violence is off the cards for a child. Eric Harris's father kept a notebook labelled "Eric" in which he painstakingly recorded the behaviour of his son that worried him and kept notes of conversations with other parents that were relevant.
Eric's co-shooter Dylan Klebold came from the same kind of stable home, attending a Lutheran church with his parents and brother. In 2009 Klebold's mother, Susan, broke her years of silence on the matter to write a heart-wrenching piece for Oprah's
O Magazine.
"For the rest of my life, I will be haunted by the horror and anguish Dylan caused," she wrote. "I cannot look at a child in a grocery store or on the street without thinking about how my son's schoolmates spent the last moments of their lives. Dylan changed everything I believed about myself, about God, about family, and about love."
While psychological and environmental profiling of school shooters doesn't seem to work reliably, however, studies have shown that there are certain behavioural aspects which seem consistent. Their actions are almost always planned, often with great detail, they normally tell at least one person in advance (who may not take them seriously) and, crucially, most attackers have access to weapons from their own home. In the case of TJ Lane, he had reportedly taken his uncle's pistol. But CBS reported that a staggering 24 weapons in total were found in FBI searches of Lane's relatives' homes.
In Ohio, where Lane lived, a conceal-carry act was signed into law last year which allows concealed firearms to be carried into bars, restaurants, shopping malls, nightclubs and sports arenas. According to CBS, there are currently no laws governing child access to guns, and only this month legislators in the state debated a bill that would permit the carrying of concealed guns into schools. Might the Lane crime prompt a re-think of Ohio's gun laws? There are no signs as yet that it will. The US house speaker, John Boehner, is from Ohio, and he said on Tuesday that "there are about 250-million guns in America, so they are out there, but people should use them responsibly".
The other consistency that school shooters generally share is that they are, overwhelmingly, young males. There have been only a handful of cases involving females over the years. Probably most famous in this regard was Brenda Spencer, who was 16 in 1979 when she held a school to a six-hour siege in which the principal and head custodian were killed and eight children and a police officer wounded.
It was she who allegedly said in response to the question of why she did it: "I don't like Mondays,"
an answer immortalised by Bob Geldof and the Boomtown Rats.
Prosecutors are likely to ask that TJ Lane be tried as an adult. In pictures of Lane, published by the press despite a judge's ban, he looked anything but.