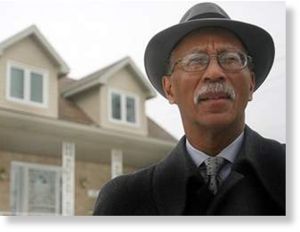 US, Michigan - Detroit Mayor Dave Bing, under pressure to stanch cash outflows, unveiled a new plan Wednesday night that would allow property owners in the city to buy vacant city-owned lots for $200.
The initiative, which Bing said is designed to "reduce blight in our neighborhoods," specifically targets 500 home owners who have vacant city land sitting adjacent to their own property.
Detroit has made headlines in recent years due to rock-bottom land values throughout much of the city, including in historic neighborhoods with stately homes and relatively solid safety records. Land carrying a minimum bid as low as $500 has gone unsold in recent auctions.
The $200-property sale was announced during Bing's annual state of the city speech. The mayor of Michigan's largest city is under intense pressure from the governor to cut costs and craft a plan that can help the company run out of money in May.
Bing's administration has been scrambling in recent months to cut costs and raise revenue to reduce a deficit of more than $100 million. These cuts even affected the speech, which is usually held at a ritzy auditorium in the Detroit's mid town region, but was moved to city hall this year to trim costs.
Bing said the $200 land-purchase plan will eventually be expanded to other parts of the city. In the first wave of the plan, 500 residents were sent letters telling them to simply sign an attached application and submit $200.
"No coming downtown," Bing said. "No added bureaucracy. The city will mail back the deed."
As an added incentive, property owners participating in the plan will receive a $200 gift card to the city's only locally-owned lumber yard so they can put up fencing on the vacant lot.
Andre Spivey, a member of the Detroit city council, applauded the initiative as "a good idea that will allow us to get the land back on the tax rolls."
Emergency Manager
Detroit's tax base has been pummeled by population decline, widespread foreclosures and a shrinking business community.
The lack of revenue, combined with rising retiree health care and pension costs, has placed Bing and the city council into a financial crisis that could lead to the appointment of an emergency financial manager by Michigan Governor Rick Snyder. Such a move would strip considerable power from elected leaders.
On Wednesday, during his speech, Bing reiterated his opposition to that scenario. He said Detroit is taking necessary steps to avoid running out of money, including wringing concessions from unions and trimming city services.
Michigan Treasurer Andy Dillon is heading a team appointed by Snyder to research whether the city needs an emergency manager. Dillon will hold a public forum on Detroit's finances in mid-March and submit a final recommendation by the end of the month.