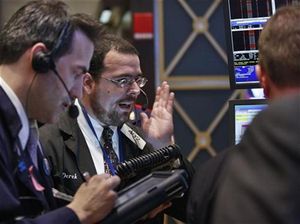 Stocks tumbled Tuesday, as the risk of a disorderly default in Greece and a reduced growth target in China dented recent confidence in the global economic recovery.
The Dow Jones industrial average fell 204 points, marking the worst day of the year for the blue-chip index and the first decline of more than 200 points since Nov. 22.
The CBOE Volatility Index, Wall Street's "anxiety gauge," jumped above its 50-day average for the first time since November. A dozen stocks fell for every issue that rose on the New York Stock Exchange, with bank and mining shares among the top decliners.
Equities' recent gains have been supported in part by expectations that Europe's credit crisis will be contained and China's economy will avoid a hard landing. Recent data seem to undermine these assumptions, at least in part.
"It's one of those days when we are seeing bits of negative news come into one, all at the same time," said Randy Frederick, director of trading and derivatives at the Schwab Center for Financial Research.
Despite the decline, the S&P 500 index is still up almost 7 percent for the year. If fourth-quarter gains are included, the benchmark index is up almost 20 percent since Sept. 30. Analysts have expected a pullback for weeks, citing an overstretched market.
Hugh Johnson, chief investment officer of Hugh Johnson Advisors, said the market decline Tuesday was "a common sense correction."
"After you've have the strong runup we've seen over the past few months, it's normal to get a pullback," Johnson said. "There are things to worry about of course, but I don't think this is more than a correction in an ongoing bull market."
The worries for Wall Street include a market valuation that has run too high, this Friday's employment numbers and rising oil prices, Johnson said. And, ironically, growing optimism about the market is another potentially negative indicator, he added.
Europe's downturn appeared ready to turn into a full-fledged recession due to a collapse in household spending, exports and manufacturing in the final months of 2011, the European Union said.
Brazil's gross domestic product expanded by a meager 2.7 percent in 2011, data showed Tuesday, adding to concerns after China cut its growth outlook earlier in the week. Expected growth in emerging markets has been a main catalyst for equities' gains.
"Uncertainly is causing some profit-taking, and it's uncertainty about the presidential election and Europe," said Mark Lamkin, CEO of Lamkin Wealth Management in Louisville, Ky. "But as the uncertainty about those things goes away we'll move higher, and I think we will end the year up 10 to 20 percent," he added.
As part of a reassessment of possible collateral damage if the Greek deal with private debt holders collapses, traders sold the stocks of large banks on concern about their exposure to Greece.
A group representing bondholders warned a default could cause more than 1 trillion euros ($1.3 trillion) of damage to the region. Creditors have until Thursday night to accept a bond swap in which they would lose almost three-quarters of the value of their bonds.
Greece has no plans to extend the deadline on its bond-swap offer to private creditors, officials said, dismissing market rumors that the date may be changed to increase participation in the offer.
Reuters contributed to this report.