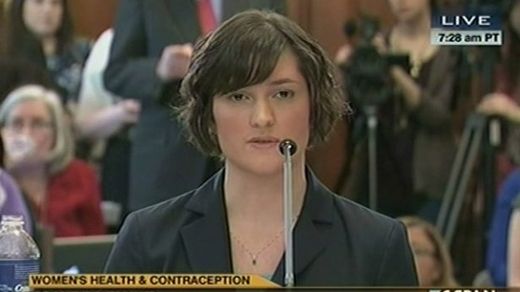 An attorney says that Georgetown law School student Sandra Fluke could "definitely" sue Republican talk show host Rush Limbaugh for slander because she does not fit the legal definition of a public figure. On his radio show last week, Limbaugh called Fluke a "slut," a "prostitute" and demanded that she publish "sex tapes" online in exchange for access to contraception coverage through her private insurance policy.
Speaking to Philidelphia Daily News
on Monday,
attorney Max Kennerly
with The Beasley Firm said, "His statements implied facts about somebody's sex life, that she was promiscuous and trading sex for money." Kennerly added that Limbaugh's "false statements of fact" could lead to his downfall and financial penalties for Clear Channel Communications, which broadcasts his show.
Update: Kennerly has also published an essay explaining his rationale for advocating a slander suit against Limbaugh. Read it here.
In his defense, Limbaugh said his comments were "satire," indicating his lawyers would likely argue that his claims about Fluke were so absurd that nobody should have believed them in the first place.
"I've always tried to maintain a very high degree of integrity and independence in the program," he told his audience on Monday. "Nevertheless, those two words were inappropriate, they were uncalled for. They distracted from the point I was trying to make and I again sincerely apologize to Ms. Fluke for using those words to describe her."
It's also not clear if Fluke would qualify as someone who is not a public figure, given that she chose to appear in public and give public testimony. Constitutional attorney Jonathan Turley
has also suggested
that Limbaugh's comments may be protected due to his status as a bombastic critic of Democratic policies because he is not affiliated with any legitimate news organization.
So far,
20 advertisers have dropped Limbaugh
following his remarks, which were made in furtherance of
a debate on Capitol Hill
about whether women should have access to contraceptive services through private health insurance plans.
Fluke had been submitted by Democrats as an expert witness on contraceptives because a friend who could not afford hormonal birth control later developed severe ovarian cysts after their university refused to cover contraceptives through her health insurance, citing moral grounds.
Fluke was reportedly considering filing a lawsuit against Limbaugh, which some Democratic lawmakers have publicly encouraged. Following Limbaugh's remarks and the national uproar surrounding them,
even President Barack Obama added his voice
to the chorus, calling Fluke to tell her that her parents would be proud that she stood up for her beliefs.