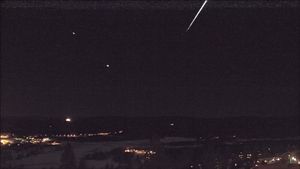 It is thought many people witnessed the event, as it the fireball was extremely bright and it was followed by a loud bang.
Astronomer Knut Jørgen Røed Ødegaard, who is behind website Bangirommet.no, is asking for any information that people can provide about it.
He would also like information on any meteorites that may have fallen to the ground, advising people to look on frozen lakes where smaller rocks will not have had the power to go through the ice.
The rocks are likely to be almost or completely black and will stand out easily on road surfaces.
Mr Røed Ødegaard tells
The Foreigner
, "I've received 800 answers with reports of sightings so far, from southern Norway and Sweden.
"We are now better able to pinpoint the probably location of where the many fragments, known as meteorites, landed. These were in Norefjell, southwestern Norway."
Norefjell is a mountain range in Buskerud County, with valleys Hallingdal and Eggedal and Numedal.
Watch the video by Steinar Midtskogen
here
(external link).