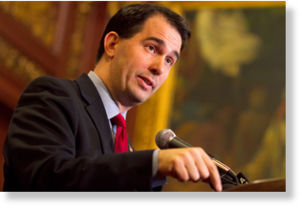 Wisconsin Governor Scott Walker will not challenge any of the more than one million signatures gathered by opponents to force a vote to recall the controversial Republican, saying his campaign did not have enough time to review them.
Walker faced a deadline Monday to file challenges after a Dane County judge granted him a 20-day extension beyond the 10 days allotted under state law. Walker also sought an additional two weeks but was turned down.
"We faced an impossible timeline," Walker spokeswoman Ciara Matthews told wispolitics.com.
Walker has been in office only a year but he angered Democrats and union members by pushing through the state legislature a law stripping public sector unions of many of their powers. Republicans said the law was necessary to improve the condition of state finances but Democrats accuse him of "union busting." Tens of thousands of people marched on the state capital to protest last winter.
Matthews said recall organizers were given 60 days to collect signatures, twice the time the campaign was given to review them.
"It obviously takes more time to verify signatures than it does to collect them," she said.
State Democratic Party chair Mike Tate said Walker's claims of not having enough time are "bordering on the absurd." He said the Republican party received help from thousands of volunteers during the last month in its effort to review petitions.
"After months of hearing about supposed fraud, months of hearing about Mickey Mouse, they can't give us one example, not one, of a fraudulent signature," Tate said.
Kathleen Falk, a Democratic candidate for governor and former Dane County executive, said Walker has been spending his time "crisscrossing the country raising money from out-of-state millionaires and billionaires" and lining up lawyers to defend himself from an investigation about corruption during his time as Milwaukee County Executive.
The investigation has resulted in criminal charges against five former aides and close political associates. The allegations range from embezzlement and theft to political solicitation by a public employee and misconduct in public office. Walker has not been charged.
Falk said the recall election is expected in 90 days. Also planning a run against Walker is long-time Democratic secretary of State Doug La Follette.
Whomever jumps in the race will have to contend with Walker's $12 million war chest and a loyal conservative base.
The highly controversial union measure created a deep political divide in the state between Republicans, who say the measure was needed to turn the state in the right fiscal direction, and Democrats, who claim it unfairly strips workers of their rights. It led to the recall of two Republican senators last summer.