Attackers stormed a federal prison in Nigeria with heavy gunfire and explosives, killing one guard and freeing 119 inmates in a new assault demonstrating the continued instability in the nation, an official said Thursday.
"The invaders came at about 7.15 p.m. (1:30 p.m. ET) yesterday and we
suspected
they used explosives to bring down the gate of the prison and the roof of the gate and thereafter set free 119 inmates," prison authorities spokesman Hadiza Aminu told Reuters.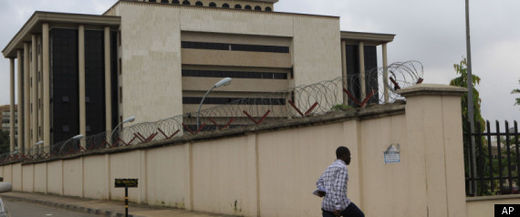 The government said an investigation had begun into the attack in Koton-Karifi, a town in Kogi state just south of Nigeria's capital of Abuja.
No group
immediately
claimed responsibility
for the prison attack,
nor did authorities say they had any suspects
immediately in mind.
"One does not really know why" the gunmen attacked, Nigeria Prisons Service spokesman Kayode Odeyemi told The Associated Press. "It
might be
that some of the armed robbers are trying to free the armed robbers there awaiting trial."
The prison held armed robbers and kidnappers, Odeyemi said. He said he did not know if the prison held any members of a radical Islamist sect known as Boko Haram, which has been carrying out violent attacks over the last year. Aminu told Reuters there were no members of Boko Haram held in the prison.
Islamist sect Boko Haram was [allegedly] behind a prison break in northern Bauchi state in 2010 when about 700 prisoners were freed.
Increasingly sophisticated
Boko Haram, which wants sharia law more widely applied across Africa's most populous nation, has [allegedly] become increasingly sophisticated and deadly in its methods in the last six months.
Although the majority of its attacks occur in its home base in the northeast, its threat has spread. At least 178 people were killed in the sect's most deadly attack last month in Nigeria's largest northern city, Kano.
President Goodluck Jonathan has said Boko Haram members [allegedly] have infiltrated the government and security services and [allegedly] have links with jihadist groups outside Nigeria, including [allegedly] al Qaida's north African wing.
The Associated Press and Reuters contributed to this report.