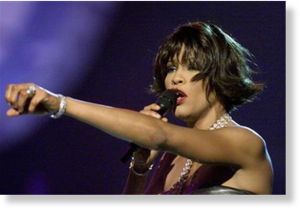 Pop star Whitney Houston was "underwater and apparently unconscious" when she was discovered in a Beverly Hills hotel room bathtub, police said on Monday, as her body was reported to be heading home to New Jersey.
Beverly Hills Police, in a written statement released to address "many rumors" circulating in the media, also said they could not yet speculate on the cause of Houston's death at 48.
"She was underwater and apparently unconscious," Beverly Hills police said. "Ms. Houston was pulled from the tub by members of her staff and hotel security was promptly notified."
The entertainer, who battled drug addiction during her life, was found dead in the bathtub of her Beverly Hills hotel room on Saturday on the eve of music's Grammy Awards, stunning friends, family and fans.
Some media reports, citing unnamed sources, have mentioned a possible accidental drowning. Others have highlighted her past drug and alcohol use.
Coroner department officials have declined to provide much detail pending toxicology tests that could take weeks to complete.
"As can be expected in a high profile incident such as this there have been many rumors circulating and much speculation by the media and the public," Beverly Hills Police said in the statement.
"In order to minimize such speculation, the Beverly Hills Police Department has asked the Coroner's office to place a security hold on their findings until they have a complete and final report prepared."
'Do Not Know the Cause of Death'
Police said in the statement that Houston's body was discovered in the tub at about 3:30 p.m. by a member of her personal staff whom they did not identify.
Fire department personnel and hotel security arrived and initiated CPR but were unable to revive her, police said. Houston was pronounced dead on the scene at 3:55 p.m., and an autopsy was completed on Sunday.
Detectives are still probing the death and will release few details until they have completed their inquiry, Beverly Hills Police spokesman Lieutenant Mark Rosen said at a news conference on Monday.
"We are not conducting a homicide investigation at this time. We do not know the cause of death, we do not know the circumstances leading up to her death," Rosen said.
Also on Monday, celebrity website TMZ reported Houston's body would be flown to Newark, New Jersey, for funeral services and burial. The body was being taken from Los Angeles on a jet owned by film star and producer Tyler Perry, TMZ said.
A spokeswoman for the late singer said plans for funeral and memorial services were not complete. She gave no further details. A spokeswoman for Perry was not immediately available.
Houston's former husband, Bobby Brown, traveled to Los Angeles on Sunday night after the couple's 18-year-old daughter, Bobbi Kristina Brown, was hospitalized suffering from anxiety, authorities said. She was later released.
'This is Accidental'
Houston's brother-in-law, Billy Watson, denied in comments to ABCNews.com that the singer had any intention of committing suicide.
"Oh, no, this is accidental," he told ABCNews.com on Monday. "She wouldn't have left her daughter like that. She wouldn't have done that to her daughter.".
Watson, whose sister is married to Houston's brother, Gary, said the family is flying back to New Jersey from California on Monday and Tuesday.
Ed Winter, the assistant chief coroner for Los Angeles County, declined comment on media reports that Houston had not drowned but likely died from a combination of alcohol and prescription drugs including anti-anxiety medications.
"You can look at a body and not know what the cause of death is," Winter told reporters.
"You might have a suspicion, but the person could have suffered a heart attack, or an embolism or something; and no matter what medications they're taking, until we run (toxicological tests) and see the level, and what's in the system, we're not going to speculate."
Houston, best known for her hit single "I Will Always Love You," the theme song of
The Bodyguard
film in which she starred, had a long history of addiction to alcohol, cocaine and marijuana and had been in rehab as recently as May 2011.
She had been preparing to appear at a pre-Grammy party in Beverly Hills on the night she died.
As with the 2009 death of another pop superstar, Michael Jackson, Internet sales of Houston's songs have surged after her death. On Monday, her album
Whitney Houston - The Greatest Hits
was the top seller in the music category on Amazon.com, and "I Will Always Love You," was the No. 1 download at iTunes, just ahead of Grammy winner Adele's "Rolling in the Deep."