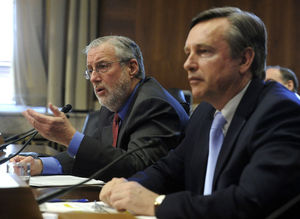 The Nuclear Regulatory Commission approved the construction of two new nuclear reactors, the first to be built in the United States since 1978.
The commission voted 4-1 in favor of the construction and operating license Thursday for Atlanta-based utility giant Southern Co.'s Alvin W. Vogtle plant in Waynesboro, Ga., which already has two reactors dating to the 1980s.
With the new reactors, units 3 and 4, it will be the largest nuclear facility in the country.
NRC Chairman Gregory Jaczko voted against the approval.
"I simply cannot authorize issuance of these licenses without any binding obligation that these plants will have implemented the lessons learned from the Fukushima accident before they operate,"
Jaczko said in a written statement explaining his dissent.
Jaczko was referring to the nuclear power plant disaster in Japan, in which an earthquake and tsunami caused monumental damage to the Fukushima nuclear facility.
Likewise critics of nuclear power said the project poses major risks. A coalition of nine groups including Friends of the Earth and the Southern Alliance for Clean Energy said this week they plan to file a lawsuit challenging the decision.
U.S. Sen. Tom Carper, D-Del., Chairman of the Subcommittee on Nuclear Safety, commended NRC's approval, defending the safety of the reactors.
"These new reactors will employ cutting-edge technology that requires fewer components than our current nuclear fleet, thereby increasing safety by providing fewer opportunities for things to go wrong during an emergency," he said in a statement.
NRC in December approved the Westinghouse AP1000 reactor design to be used for the project, which was modified to meet the commission's new and additional requirements, including a steel reinforced concrete structure approximately 3 feet thick protecting the steel containment vessel housing the reactor.
Southern says Vogtle 3 could begin operating in 2016 and Vogtle 4 in 2017. Together the reactors will generate 2,200 megawatts, enough to power nearly 1.8 million homes.
"This is a monumental accomplishment for Southern Co., Georgia Power, our partners and the nuclear industry," said Southern Co. Chairman, President and Chief Executive Officer Thomas A. Fanning.
"We are committed to bringing these units online to deliver clean, safe and reliable energy to our customers. The project is on track, and our targets related to cost and schedule are achievable."
Construction of the two reactors will cost around $14 billion, and Southern Co. is expected to receive an $8.3 billion loan guarantee from the U.S. Department of Energy.
Meanwhile, the utility is already charging customers $3.73 a month for their construction, says
Scientific American
magazine.
Construction of the reactors will involve up to 5,000 jobs, Southern says.
The last time the NRC granted approval for a new reactor was in 1978, a year before the Three Mile Island nuclear plant accident in Pennsylvania.